February 24, 2012
Still rufflin'
Still rufflin'. This week, it's the neck.
I've enjoyed the pace of this KAL for the past couple of weeks, because it's allowed me to work on other things. Like the little "Starr" jumper.
This was a quick one to work up!
Specs:
Pattern: Starr by Martin Storey from Rowan Miniature Classics
Yarn: Debbie Bliss Baby Cashmerino in 043, Purple, 2 balls.
Needles: 3mm and 3.25mm
Mods: None.
Knit exactly to the pattern. Pattern called for Rowan Cashsoft DK, but I used Baby Cashmerino, which claims to be a sportweight, but has similar yardage as the cashsoft, similar content, and knit up beautifully at a DK tension.
The pattern called for 3 balls for the smallest size, but I only used two. In saying that though, I was using the scraps from seaming to sew on the buttons. I used every single centimetre of both balls, so I'd probably recommend you get three, just in case.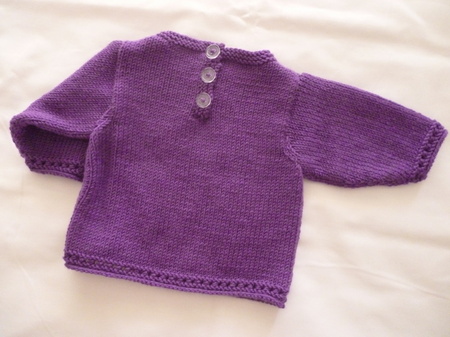 The star on the front is cute.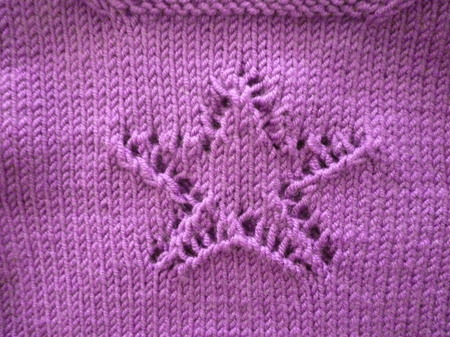 All in all, a great, quick baby knit. Repeatable? I can definitely see myself doing it again! Next up?
Maybe back to the Hiccup socks, or poor neglected Camber again.
February 17, 2012
Every day I'm rufflin'!
I apologise, I can't help it. I sing the line and do a little dance, every time I think of it. Ella is moving along nicely, thankyouverymuch!
I failed to blog about it last week, but the sleeves and the bodice are done, blocked and seamed.
Done just in the nick of time, because the next step was up on the blog on Monday night. Cuffs and Ruffles!
Pink yarn comes out to play! Bling! Ruffles! Yay!
I played around with it for a little while. I have just one skein of pink blingy yarn, so there's not enough for all the ruffles, but it needs to be in there somewhere.
So I decided to go with a few rows of the bling, then with the plain yarn for the ruffles.
Love.It.
I went with option B of Nora's suggestions, the picot edge cast off. Slow as molasses, but totally worth it.
So now, the bodice is done, all ready for next Monday's hints and tips.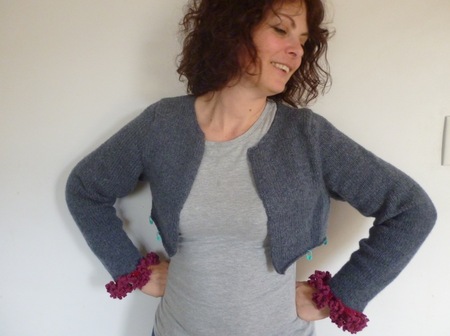 And I think the armholes are fine!
February 05, 2012
The Bodice
Week Two of the Ella KAL finished on Monday - and the goal for week two was to finish the bodice. Success!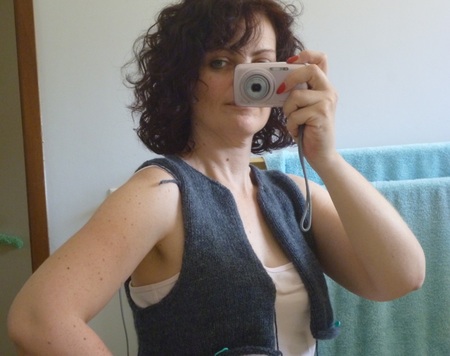 I'm quite pleased with the fit. There's about two inches left between the bodice fronts to allow for the ruffle, but judging by the way my swatch grew, I expect this will be a little bigger when all is said and done.
I am a little concerned about the size of those armholes, but weeks 3 & 4 are for sleeves, so I'm reserving judgement until the sleeves are done and I can see how it all goes together. We've got two weeks to do the sleeves, and so far I'm on target to finish these by next Monday. As usual, I'm doing both sleeves at the same time.
Including my awesome, high tech counting method that I always use for sleeve shaping.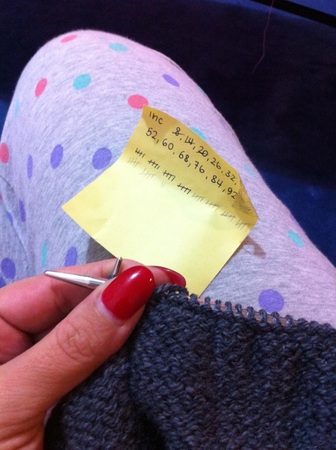 A post it note, with the increase rows noted, and counted off one at a time. Don't knock it, it works!
TAFE starts this week, so my time may be more restricted than I think. I'm a little nervous about the impact on my time that TAFE will have.
But I had a little quiet time in the shop this week, so I started something new there, too.
Starr by Martin Storey from Rowan Miniature Classics, in Debbie Bliss Baby Cashmerino.
The pattern calls for Rowan Cashsoft DK, which is a 57% Merino, 33% Microfibre, 10% Cashmere mix, in a 50g ball with 130m per ball. I'm using Debbie Bliss Baby Cashmerino which is 55% Wool, 33% Microfibre, and 12% Cashmere in a 50g ball, but has only 125m per ball.
Somehow, the sportweight Baby Cashmerino has less yardage than the DK Cashsoft witha similar composition. Colour me confused! For what it's worth, DB Cashmerino DK has only 110m per ball.
Anyway, the Cashmerino Baby is subbing nicely for the Cashsoft DK, the tension is perfect, and the resulting fabric is lovely. And how cute is the sweater?!