June 26, 2006
And another weekend is over. We need more of them, I say!
It was another busy one, I missed Stitch n Bitch due to yet another dancing event.
I couldn't take the gloves to the dancing event, but I did get a bit more done on them, and am now partway through the fingers. A few people expressed interest in the fingers, so I thought I'd document the process for you.
Some Fair Isle gloves have patterned fingers, but luckily for me, not these ones.
I finished the palm of the first glove.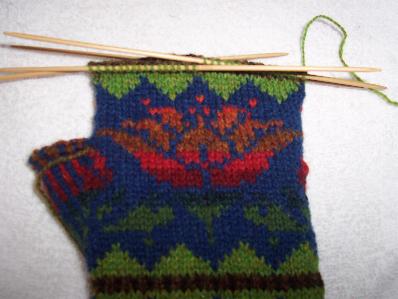 I'm now up to the fingers, and we start with the pinky finger. The end of round is at the side of the hand, and pattern says "K8, place next 48 stitches on a holder, then use the backwards loop method to CO 2 sts over the gap, K8"
This gives you 18 finger stitches, and the 48 stitches on the holder are left aside for the other fingers later on.
Rather than use a holder or waste yarn, I leave the stitches on the needles, and just use a new set for the fingers. So my finger stitches are on the green needles, and the set aside stitches are on teh bamboo needles.
Using those stitches, complete the finger by knitting around.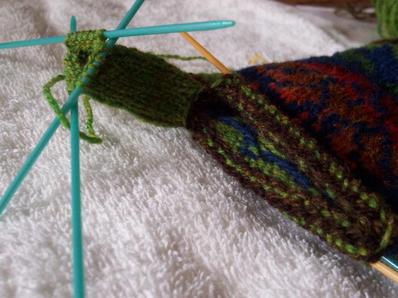 Because your little finger sits a little lower than the rest of your fingers, rejoin the yarn to the 48 held stitches to lengthen the palm for the remaining fingers.
The pattern says "Rejoin the working yarn, and beginning at the base of the little finger, work one round, picking up and knitting 2 sts at base of cast on for little finger to eliminate any gap"
Basically, you should pick up stitches where you cast on to cover the gap on the previous finger.
The blue circle is where I rejoined the yarn, the red oval is where you will pick up stitches.
I find that just because you have cast on 2 sts on the previous finger, picking up 2 sts is not enough. If I only pick up 2 stitches, I end up with gaps at the base of the finger.
So I pick up however many I think I need to prevent holes. For this glove, I found I needed to pick up 5.
Then, on the next round, I reduced it to 3 by knitting 2 stitches together twice.
Then on the next round again, I reduce it to the 2 required. (I have begun the ring finger at this stage, and have 16 stitches on my green finger needles)
As you can see, this eliminates any holes, and still looks nice and neat.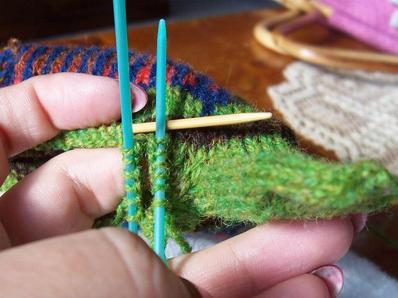 That's as far as I've gotten. If anyone has any questions that I haven't covered, let me know and I'll put up more info.
Now it's back to more fingers!