April 27, 2011
Stick Day.
Hey guys, don't fall over! 3 posts in a week. Just keeping you all on your toes.
No knitting in this one though, except to say that the Easter Show knitting was a very mixed bag this year. Some of the quality of entries was extremely high. Some of the quality of judging was questionable to say the least. No pictures, because to be honest, I forgot to get the camera out. But you're not missing anything, unless you want to see ribbons on things that have blatant mistakes, bad tension and just plain bad taste. (In my opinion, of course!) And some of the beautiful things that absolutely deserved the ribbons they got were hung so badly that you couldn't see them properly anyway. But I'm not going to dwell on that. So if you're here for the knitting, that's it, the rest is way off topic.
The best part of the Easter Show is the crap food we eat all day long. This year, it was my mission to only eat food that came on a stick. There was no lack of availability of such foods, but I did cheat by having some CWA (Country Women's Association) scones. But they're so awesome, you have to make an exception.
So without further ado -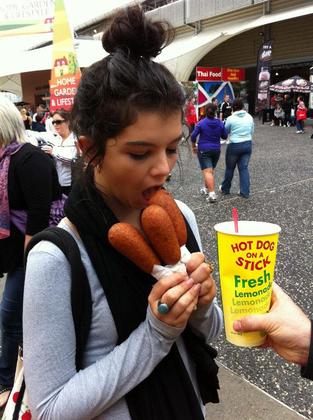 Started the day with Cheese on a Stick. (Battered, deep fried cheese. On a stick)
Then we went and looked at the knitting. Then consoled ourselves with hot dogs.
(Kris tells me in the US, it's a corn dog)
Knitters with sticks!
Kris, me, Kylie and Ailsa. Cheese, hotdog, cheese, cheese.
Chocolate covered bananas. On a stick.
Em had strawberries. I forgot that picture.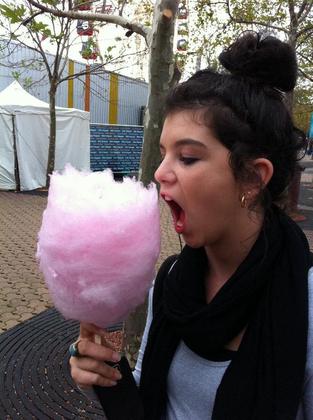 Fairy Floss. On a stick. Or cotton candy, if you prefer.
Chips on a stick! Apparently its a deep fried, spiral cut potato. Em said it was good, I didn't partake.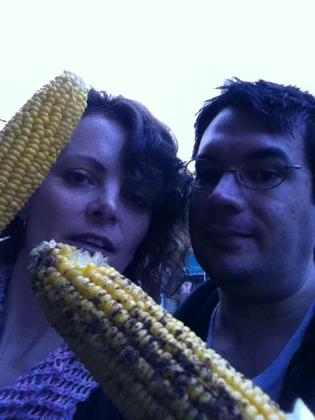 Corn on a stick, with appalling colour.
I feel like a failure. We missed toffee apples on sticks. And icecream. Something to aim for next year!
And we didn't come home empty handed.
Show doll. On a stick!

April 25, 2011
April 23, 2011
April 10, 2011
April 02, 2011