August 28, 2010
Shimmer
So here's one I've been a little remiss in blogging. It's been finished for quite some time, and yet it's sat, unphotographed and unblogged.
Possibly because I'm not feeling the love for it.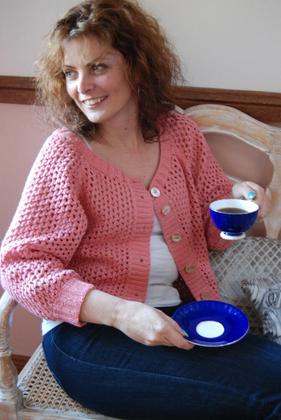 Specs:
Pattern: Shimmer by Kim Hargreaves, from "Misty"
Yarn: Rowan "Calmer" in Carnation, purchased from Jannettes Rare Yarns
Needles: Knitpicks Nickel in 4 and 4.5mm
Time: Started May 12, finished June 28. (I told you it had been a while!)
Mods: None.
To start with I quite liked the colour, but the longer I knit with it, the more I disliked it. It looks too orange for my liking. And when I first started it, I wondered why there weren't many pictures of it. Usually Kim puts up at least 2, sometimes 3 different views of each design on her website. For this, there was just one, and the model was sitting on a windowsill and you can't see the shape of the cardi very well. I should have looked more closely at that.
It's boxy. (And to be fair, it's described that way) It's got very deep raglan sleeves, and a very wide neck, and I'm not sure I like the shape. The sleeves are very wide - almost as wide as the back. If I was to knit it again, I'd probably narrow the sleeves a little, raise the raglans a little, and make the neck a little higher.
Will I wear it? I have to say that I'm not sure.
But Ailsa did an awesome job photographing it for me, and making it look pretty good!
August 22, 2010
August 17, 2010
August 10, 2010
August 05, 2010