February 28, 2006
February 21, 2006
February 18, 2006
February 15, 2006
February 12, 2006
February 10, 2006
February 09, 2006
February 06, 2006
February 05, 2006
Both Donni and Danielle posted this week about being in a knitting funk, and I think it's catching.
I finished all the pieces for the Cotton Ease jacket on Thursday, and was ready to block and seam it so that I could do the collar. We had really hot days Wednesday and Thursday, and I need hot days to block, because I block on the floor, and we have a tiny little house. Friday dawned cloudy, and so did Saturday. Today was a little better, but family days are not the best for blocking, either.
So I was faced with "What next?"
I had some more cotton ease that was intended for Wendy's "Girlfriend's School Spirit Sweater" for Em. So I pulled out the pattern and the yarn, and realised that Em is actually just a tiny bit bigger than the chest measurement for the size 10. At first I thought "It won't matter" and I cast on. Took a few goes to get the gauge right, but I got it going.
Then a few things occured to me. Em is 13 next month and she's growing if you know what I mean. If she is just a bit bigger than the 10 now, by winter she might be even more bigger than the 10.
And I hate the cotton ease knitted at 19sts/10cm. Hate It. It was quite nice to work with at 17sts/10cm, but too stiff and crunchy at the tighter gauge.
So after working on it Thursday night and most of Friday, I ripped it out.
Then I decided to start the mystery project. It's a small thing, will be done in no time! Knit and knit and knit, Friday night. Used a needle one size smaller than recommended, becuase I always need to go down a size. I half finished the first piece, measured the length as required, and realised my gauge was off. Did I swatch? No. I always need to go down a size!
Not this time. This time, my gauge is perect on the recommended size needles. Rip it out, start again.
So that's going quite well, but it's a mystery project, and I don't want the recipient (or I should say the recipients mother!) to see it before I give it to her. So I need something that I can also knit on, so I'll have blog fodder.
Am I the only one who considers the blog when I decide what to knit?
Danielle sent me this gorgeous Cherry Tree Hill Possum Lace a little while ago.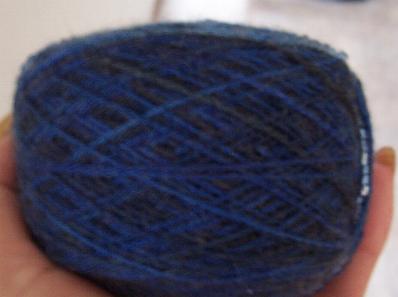 I have scarf ideas. So I went out yesterday and bought some beads, and I think I'll play with this for a while.
Don't you love those colours? The scarf ideas are very vague right now, but I'm sure I'll come up with something!
It has also occured to me that I am way behind on some of my sewing, so I need to get stuck into that this week. I'm just not in a sewing frame of mind right now.
Hasn't this been a long post full of nothing?!?
Oh, and late as usual, my word cloud!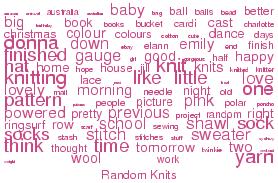 It's tempting to order the tshirt, isn't it?
February 03, 2006
February 01, 2006