February 25, 2010
February 22, 2010
Bonnie
A couple of weeks ago, I finished a hat that Em had asked for some time ago.
Specs:
Pattern: Bonnie by Kim Hargreaves, from Heartfelt
Yarn: Rowan Bamboo Soft in 102 Almond (Shade now discontinued), 2 balls.
Needles: 2.75mm
Mods: The pattern calls for a crochet band, but seeing as I can't crochet to save my life, I went with the knitted alternative, a moss stitch band. I'm actually thinking about ripping it out and changing it to a 1x1 rib. The moss stitch has no elasticity. A friend suggested some elastic, and I might try that first.
I thought it was going to be a quick, in front of the TV knit, but it tricked me. It's knit flat and then seamed, and I thought about doing it in the round, but there's lace patterning on both sides, and I was too lazy to try to adapt the pattern.
It's a nice hat, very pretty and chic, but a little more hassle than I prefer in a hat pattern! Em is happy with it, though, so all in all, I'd call it a success.
And she looks so cute in it, doesn't she?
Apart from that, it's all Featherweight, all the time. It now has a body and sleeves, and the neckband/collar is all that remains.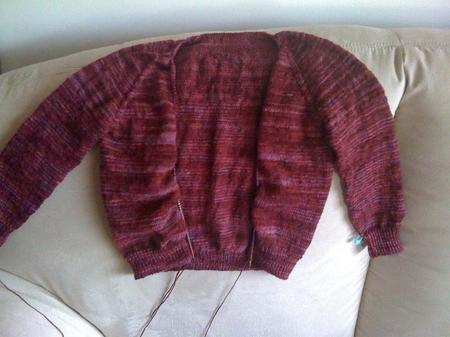 (Less than stellar picture is brought to you by the iPhone, courtesy of a lack of batteries for the big camera)
As you can see, it is almost done. It has occupied 100% of my knitting time. Well, what's left of my knitting time after I waste hours trawling Ravelry looking for the next project, that is.
There's been no Twinkie update for a long time, as has been pointed out. She's a bit cranky, but otherwise well. We've been having some yard work done, and she's not happy about it. She refuses to go out the back unless we pick her up and force her out. And when we do that, she goes and hides in the long grass to let us know how displeased she is.
She's a bunny who doesn't deal well with change!!
February 15, 2010
February 09, 2010
February 04, 2010