January 30, 2006
I'm still here!
The knitting is going slowly - I'm up to the sleeves of the Cotton Ease Jacket, and they are boring. Boring, endless expanses of stockinette, boring to knit, boring to blog about.
And I've been sidetracked by the tutu. It is flattened, and now I am up to the decorating bit. See this?
I am cutting out individual flowers, then embroidering them a little with gold thread, gluing on rhinestones, and sewing on beads, to glitz up each one.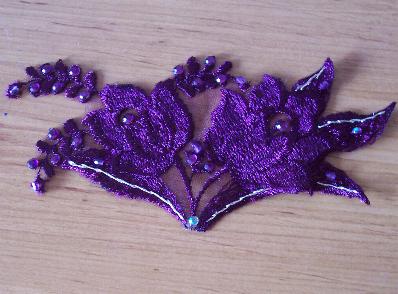 The colour is more accurate in the top picture.
Then, I have to sew each flower onto the top plate of the tutu.
It is seriously eating up my knitting time.
Went to Stitch n Bitch on Saturday, and as usual, had a great time. Did a lot more talking than knitting, as per usual.
Today, I was in the Penrith area, and I popped into The Wool Inn.
Despite promising myself that I was only going to look, more yarn jumped off the shelf and just begged to be taken home. I got a couple of balls of something to make something for the baby of someone who reads this blog, so I'm not telling what yet. Hi Sharon!
I also bought this.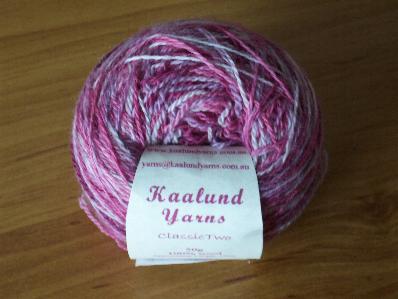 I need more laceweight like I need a hole in the head, but it's so pretty. It's Kaalund Yarns Classic Two in Magnolia. It's a pure wool laceweight, 356m. I'm thinking a Feather and Fan shawl with some beads.
The house inspection went very well. Twinkie behaved as if she lives in her hutch in the yard, and all rabbit hair evidence was vaccuumed up. The girlie from the Real estate even mentioned that we are long overdue new paint and carpets!
January 24, 2006
January 23, 2006
January 20, 2006
January 19, 2006
January 18, 2006
January 16, 2006
January 14, 2006
January 10, 2006
January 07, 2006
January 05, 2006
January 04, 2006
January 02, 2006
January 01, 2006