September 28, 2007
Better!
Fortunately, I'd had the good sense not to finish the hat and weave in the ends before I got Em to try it on.
So I ripped out the decreases, and the last 8 row cable repeat, then redid the decreases.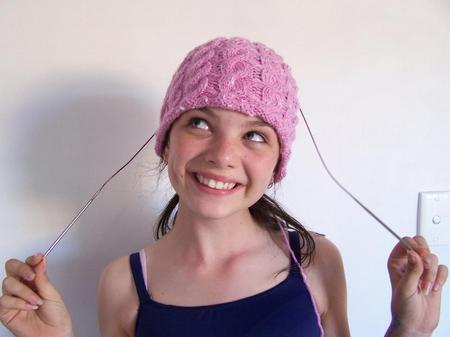 Much better! (Notice that I again didn't finish it - I wanted to make sure it was right first!)
The fit around her head was just fine, the hat was just a bit too long. I tried to convince her that it would keep her extra warm in New York, but she wouldn't have a bar of it.
Something I've learned from this hat? (Well, apart from the obvious!)
I'm not a fan of cables.
Don't get me wrong, I love the way they look. I just don't particularly like knitting them.
My tension tends to be a little loose apparently, so I always have to go down a needle size to get gauge. But when I knit cables, I always feel like my knitting is too tight. If I try to loosen it up a little, my gauge is off.
And they're sl-o-o-o-w.
But I am happy with the hat. Now it's onto the gloves.
I need to finish these up and move on with my Hanging Garden Stole, because the next project is already planned.
Yarns Online is getting in Cascade Eco Wool. You know, the one that Brooklyn Tweed used for the Hemlock Ring Blanket?
Guess what I've preordered?
Yup, now that we're heading into summer here, I'm going to knit that gorgeous lap blanket.
And I guess that means that the Shetland Shawl gets pushed back a little again.
But I promise, it will be finished by Easter.
September 27, 2007
September 24, 2007
September 22, 2007
September 20, 2007
September 18, 2007
September 15, 2007
September 12, 2007
September 08, 2007
September 05, 2007
September 01, 2007