July 25, 2010
Startitis
At Knit Camp earlier in the year, our table won the trivia competition. (No fault of mine - I was busy drinking.) As a prize, we won yarn. Yay! I love Knit Camp!
I won a bag of Cleckheaton Country Silk in blue. I quite like Country Silk but Australian Country Spinners, true to record, have discontinued it. They have an excellent track record of discontinuing the yarns I like, leaving only the bland or awful. Anyway, that's a rant for another day. One where I get accused of having it in for ACS. (Not true, I just don't particularly like any of their yarns!)
Anyway, as I mentioned, I'm a fan of the Country Silk, even though I can't get 8ply (DK) tension with it unless I go down to a ridiculously small needle, then I don't like the resulting fabric. So this time, I went with what I liked, and on a 3.75mm needle, I got 20sts/10cm. So I went pattern hunting.
And I found Sage Blouse by yellowcosmo, a free Ravelry download.
I was a little worried that the silk slubs would obscure the Moorish Lattice pattern, but I'm quite pleased with the way it's coming out.
That's three days work, and I'm enjoying it, as I'm sure you can see! I'm going to be laid up for a few days this week, and this will see lots of action, I'm sure.
And just because it's been a while, a Twinkie pic. The quality isn't great, because I took it late at night, but this is how she likes to wait for bedtime.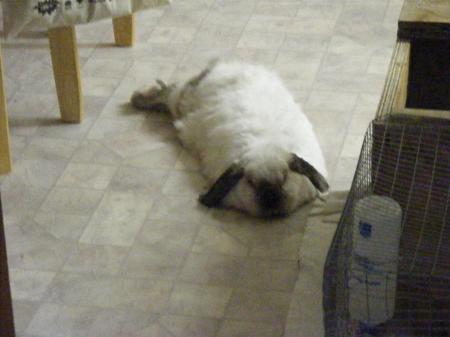 By giving us really big hints that she'd like to be in bed (with her dinner, please!)
July 23, 2010
July 21, 2010
July 18, 2010
July 14, 2010
July 09, 2010
July 03, 2010