October 29, 2005
October 25, 2005
Another Australian Knitblogger friend asked me to flash my needle stash. It was harder and more time consuming than I thought. I never had any idea that I have so many needles!!
Lets start at the beginning.
My straights. These very rarely see the light of day. I had a big clean out of them a while back, but I kept some. My Grandma taught me how knit when I was around 5 or so. I vaguely remember my mother teaching me to cast on and off, that was probably around the same time. (She died when I was 8). My sister taught me to purl, although she swears now that she doesn't even know how. I remember taking some knitting to my Grandma when I was quite young, upset that I couldn't work out rib. I was teaching myself, but I was taking the yarn over the needle instead of under it as I went from knit to purl.
Anyway, my point is that most of these were my Grandmothers or my Nanas. The tortoise shell and the anodised ones are years old. So I keep these for sentimental value.
My wooden straights. I don't use these often either, but more often than the other straights. For some reason I like to knit baby clothes on bamboo straights. All my scarves are worked on wooden straights, usually my Lisa G needles.
Aren't they pretty? I have another pair, currently holding my poor Branching Out scarf which is desperately seeking my attention.
Oh, and Em's needles. The vast majority of these were mine.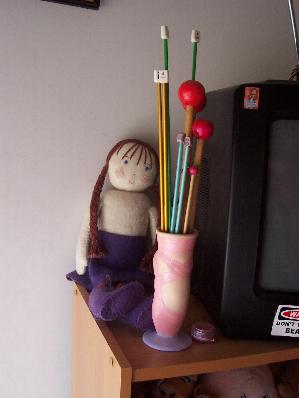 That's an Imogen doll from AK Traditions in the background. She came with a kit to knit her a wardrobe. Last Christmas. Well, at least it's summer again and she isn't getting cold ;)
Em has more of my needles, but they're under the bed.(Insert ominous music). They'll never see the light of day again ;)
Em doesn't like circs!
Moving on.
Sock needles! 2mm Crystal Palace bamboo (minus 1), Clover bamboo 2.25mm, Tulip bamboo 2.25mm and Pony Pearls 2mm - 3mm visible here. I also have
2mm Rosewood DPNS holding Lorna's sock number 2. And
2mm Crystal Palace (full set) and 2mm Brittany Birch (minus 1) holding the Vanalinn glove. I like the Brittany Birch, but I break them. My favourite sock needles are currntly the Rosewoods, but I like the Crystal Palace too.
All my other DPNS. I have every size DPNS from 2mm - 8mm. Some have never been used, but I picked up a big bundle of the plastic ones as a pack on eBay.
Circs! Every size from 2mm - 12mm, except 2.25mm and 8mm. The Addi bamboo is the current favourite. Favourites are generally the Addi's, but I do like bamboo needles. Oh, and there is another one on the Mystery Shawl 2.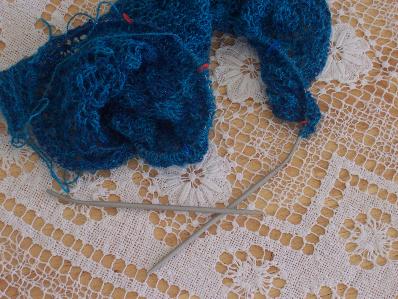 I think that's it! I love needles, can you tell? I'm going to teach myself 2 socks on 2 circs sometime soon, so I'll probably buy more then ;)
Despite the number of needles I have, I still find there are ones I don't have, as evidenced by the Feather and Fan shawl. But yeah, I have a few.
So - share your needle stash!! Leave your links in the comments :)
October 22, 2005
October 21, 2005
October 20, 2005
October 18, 2005
October 13, 2005
October 12, 2005
October 08, 2005
October 06, 2005
October 02, 2005
October 01, 2005