July 30, 2007
Little Lace!
Little lace, it moves along so quickly!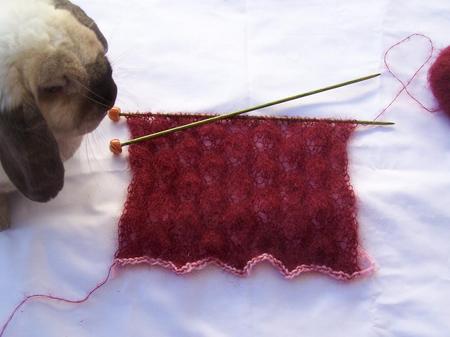 Scarf with Attention Seeking Rabbit.
It's flying along. I'm a little bit surprised how much of my knitting time was being sucked up by the Shetland Shawl. It's so nice to have a break and work on something different.
As usual, my tension is a little loose. The pattern recommends 4.5mm or 5mm needles. I started with 4.5mm needles, did a whole repeat, and then decided it was a little too loose, so I ripped it out and restarted on 4mm needles.
This is the first time I've used Kidsilk haze, and it's nice, but I'm sure it's exactly the same as Madil Kid Seta. Either way, I love to knit with it. It knits up into such a nice soft, fine fabric.
I've done a little bit of work on the Twisted Flower socks, until today when I came across this.
A knot in the middle of the skein. Yet another of my pet peeves. In fact, this one is right up near the top of the list. I hate knots in my socks. Hate it. Hate weaving in ends in my socks. That's one of the reasons why I haven't done any colourwork in socks, because I hate bumpy bits on my feet.
I'll get over it, but it's put a serious bump into my love affair with Louet Gems Merino. I was totally enamoured until now. Hopefully it's a one-off, and the next skein will be perfect.
Who wants a free t-shirt? I first saw this over at Stitching Mum's blog.
If you follow this link to the Remo General Store, you can get a free t-shirt. The only catch is that you have to pay for the postage. It cost me $AU8.50 for postage, and it's a nice quality t-shirt. It's available to anyone, anywhere in the world. Shipping to the USA looks to be around $US13 for airmail.
There's 160 designs to choose from, and I couldn't make a decision as usual, so I went basic and chose the cupcake.
On the site, the cupcake was white, not fluoro pink, but I can live with that. You can choose fitted or not, long or short sleeves, mens, womens or childs sizes.
You do need to order before August 16 though. There's no catch, apart from paying for the postage, they're giving them away as a form of advertising, trying to drum up business.
I love me a freebie!
July 27, 2007
July 25, 2007
July 23, 2007
July 21, 2007
July 20, 2007
July 18, 2007
July 16, 2007
July 15, 2007
July 14, 2007
July 11, 2007
July 07, 2007
July 04, 2007
July 02, 2007