July 22, 2011
The Trip
So the trip, compressed.
We had an awesome time! Em enjoyed her cruise immensely, too. But our trip, condensed, with pictures.
We spent out first night in Eden. (Yes, really!) We arrived late on the Saturday night, but when we awoke on Sunday, we saw this awesome view from our balcony.
Lovely! We spent the next day driving to Melbourne. On the advice of a few twitterers, we stopped at Lakes Entrance for lunch. I spent some time conversing with some Black Swans.
I offered them a chip, and was almost attacked by seagulls. We hid in the car to eat, but when we were done, we tossed the last of our chips to the seagulls.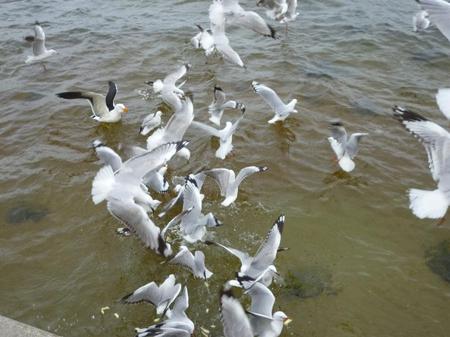 Mayhem. I don't think a single chip actually hit the water.
On Monday evening we drove out to Phillip Island to see the penguins. Awesome. Loved every minute of it, despite the fact that it was freezing. Freezing!
We went on the most expensive tour, the "Ultimate Tour" where they take you down to a private beach with night scopes in the dark, and you sit on the beach and watch the little penguins waddle in from the water and run off to their burrows. No photos, because it's dark and you don't want to upset the penguins, but it was wonderful, I highly recommend it!
We went off to the Melbourne Museum the next day to see the Tutankhamen exhibition, again highly recommended! No pictures again, but it's so awe inspiring to be standing amongst these breathtaking relics.
We left Melbourne on the Wednesday, and drove up to Warnambool via The Great Ocean Road.The road starts in Torquay near Bells Beach.
Freezing, I tell you.
I don't think that surfer is Bodhi, but I could be wrong. We stopped to see the Twelve Apostles.
It was cold. And windy. I had to hold my hat on so it didn't blow away.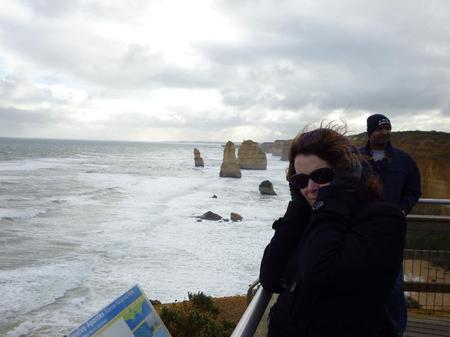 London Bridge - now apparently known as London Arch, as the bridge fell back in 1990.
And the Grotto.
There was a little rain, a whole lot of wind and a great deal of cold, but the scenery is stunningly beautiful.
The next day we headed up to Bendigo. Along the way we saw a sign for Creswick Woollen Mills, so we popped in for a visit. Not much yarn, but there were these!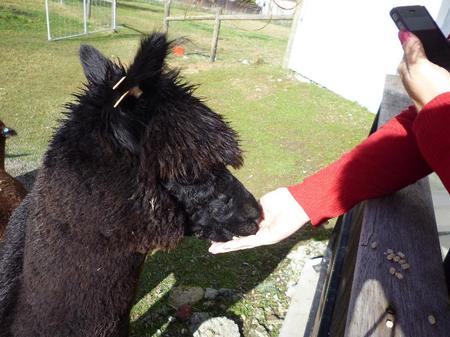 Not much yarn was the theme of the trip, really. I was a little surprised at my restraint! We hit Bendigo Woollen Mill as soon as we arrived in Bendigo on Thursday, and the Sheep and Wool Show on Friday morning, where a few lovelies tempted me.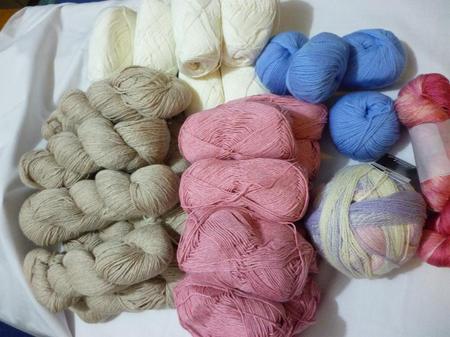 Two lots of a Wool/Cotton 4ply (fingering weight) blend, one pick and one white and some blue baby yarn from the Bendigo Woollen Mill. A kilogram of gorgeous alpaca from Pear Tree Yarns (the colour isn't true - it's natural, with the faintest bit of pink through it), a zauberball, and some gorgeous pink wool/silk blend from ms.gusset. That's it!
We started for home that afternoon, spending Friday night in Albury and seeing Harry Potter before arriving home on Saturday.
Did I get any knitting done?
Apologies for such a dark picture, the knitting is dark grey and the sky is matching this week! But that's a front, a back and almost two sleeves.
So yes, there was plenty of knitting!
July 08, 2011
Blossom
I promised another finished project for this post, and it's a super cute one! There are not an awful lot of babies around me. My sister recently had a new baby, and he's lovely, but he has a very prolific grandma in addition to me, so there's a limited amount of knitting opportunity there.
Luckily, I work in a shop that lets me, in fact encourages me to knit samples. Because I bought a very cute book a while back, and I've been itching to knit something from it. It's Rowan Miniature Classics, and it's full of adorable knits for little people by Martin Storey.
The first pattern I selected was Blossom, a little bolero.
Told you it was cute!
Pattern: Blossom by Martin Storey, from Rowan Miniature Classics.
Yarn: Rowan Pure Wool 4 ply in "Framboise"
Needles: 2.25mm.
Trim: Liberty Tana Lawn bias binding.
Mods: Only a couple. The pattern was supposed to be knit in Fine Milk Cotton and I subbed the Pure Wool 4ply. It was supposed to have a little lace trim, but the Liberty bias looked so nice I couldn't resist!
A great knit, and a great result. Keeping track of armhole decreases and the front neck decreases sometimes got a little confusing.
The flower? A nightmare.
But worth it! It's fiddly, each petal is knit separately from all the others, and they curl and look like crap. A really vigorous wet blocking fixed it nicely, though!
I hand sewed the bias in place, I was worried that using the machine might stretch the knitting out of shape.
I celebrated by casting on something else out of the book.
However, we're off on a road trip tomorrow, so it's been temporarily abandoned, along with Fancy and Smoulder.
I need me some nice, simple, lush car knitting. So I'm casting on for Kim Hargreaves' Edie in Kid Classic. Yum. (Remember the days of no more than 3 projects at a time, and only 1 garment?)
In any case, Em is off on a cruise to the Pacific Islands with her girlfriends (when did that happen? Isn't she still only 10 or so?) and so David and I are off to Victoria, alone(!) for a week.
Twinkie is going to the vet bunny spa while we're away, but she doesn't know yet. She actually let me pick her up and have a cuddle the other day.
Doesn't happen very often!
July 03, 2011
Pink
A while back I had a post of all the things I was knitting - and they were all pink. It's not hard to work out my favourite colour, really. Although purple and red are not far behind.
I finished the sweater I was working on a while back, but up until now hadn't worn it. Yesterday I finally wore it, and got some pics.
Why haven't I worn it sooner? No idea. This is no earth shattering, life changing knit. But I do think it's a knit I'll wear a lot. Something to throw on with jeans any day of the week.
Specs:
Pattern: Easy Top-Down Raglan from Spud & Chloe. (rav link)
Yarn: Spud & Chloe sweater in Jellybean, 6 skeins, obtained in a Ravelry destash.
Needles: 3.75mm Knitpicks Harmony interchangeable
Mods: None. Although the pattern is really only a guide, it's easy to follow and it works!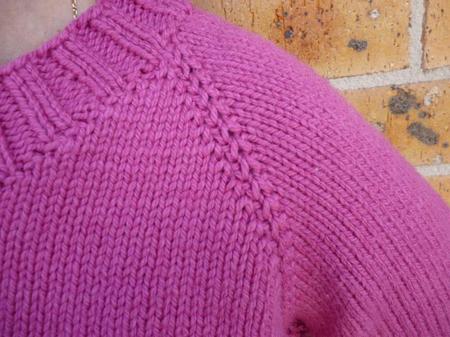 Overall: I'm happy with it, and it's an easy-to-wear knit. Certainly not high fashion or anything, but I don't want high fashion every day!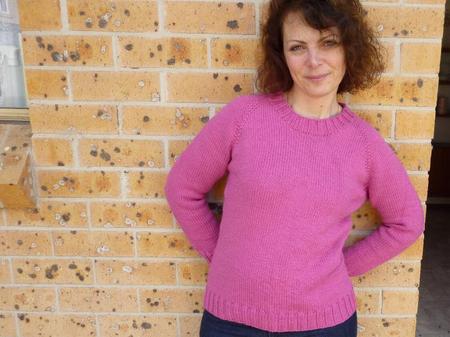 It was not without dramas! Half way down the body I had a sinking feeling that I was going to run out of yarn. I had six skeins, and six was enough for some people on Ravelry, but it wasn't looking good. So I stopped work on the body and did the sleeves, then I came back to the body. It still didn't look promising, so I got onto google and started sending emails to a bunch of online stores that had the Spud & Chloe in stock. But the original yarn had been bought in a destash, and I had no idea how long ago it was purchased. The emails were coming back, all saying they had a different dyelot. Just as I was really starting to panic, Jimmy Beans Wool got back to me. They had one single, solitary skein in the matching dyelot. I called them immediately, and they sent it out straight away.
And I didn't need it.
Isn't it always that way? If I'd been sure I was going to make it and hadn't ordered the extra, I'd definitely have run short. However, after wearing it yesterday, I may actually add a little extra to the sleeves. They're a tiny bit shorter than I'd like, and I have an extra skein of yarn anyway, right?
This is the first time I've used the Spud & Chloe sweater, and I really like it! It's a 55% Wool, 45% cotton blend, and it's lovely to knit with. It feels more cotton-y to me than other wool/cotton blends, particularly Rowan Wool/Cotton. I also love that the care label tells you to tumble dry until damp. I love me an easy care knit!
So overall, a success, and maybe that extra skein will come in handy after all!
Next time - another finished knit!