June 30, 2005
June 28, 2005
June 26, 2005
Well, after many, many mishaps, we made it to the Quilt and Craft Fair :)
We had intended to catch the train, so we got up at any unhealthy hour for a Saturday, got dressed, ate and headed to the train station. I thought it seemed very quiet, but just assumed that all the smart people were still at home in bed. Nope. Cityrail were doing maintenance on our train line, and there were buses running instead. Erk. I half seriously considered going home right then. But we decided to drive into the city instead.
So in we went, parked at the casino where it used to be cheap parking, but isn't anymore, we discovered. Then down to the exhibition centre. After Jan's post the other day, I ws expecting a mile long line, but there was no line at all, it was great :)
The fair itself was pretty good. A *lot* of quilting booths, a good number of scrapbooking and needlework booths. There were a number of knitting booths, but not too many. Bendigo Wool Mills were there, they still had some sock yarn at $3 a ball, but I resisted. Yay me! ;) It was a cotton blend, and the colours were pretty, but it just didn't grab me. They had some yarn for $2 a ball, but again, nothing that jumped out at me, so I didn't buy anything. Emily bought a ball of off white angora blend for $3. She intends to dye it. :)
Touch were there, but nothing grabbed me, no sock yarn left. A few vendors that had a great deal of novelty yarns. One vendor who had some *gorgeous* baby alpaca, and some Noro. I considered the alpaca for a while, but couldn't think of a project, so I left it there. I think DH was astounded at how much I didn't buy, LOL!
Then we got to STYK and In The Bag Handknits. Janette and Bronwyn were *lovely*! Gorgeous stock, and just genuinely nice ladies. I bought stuff at this booth :)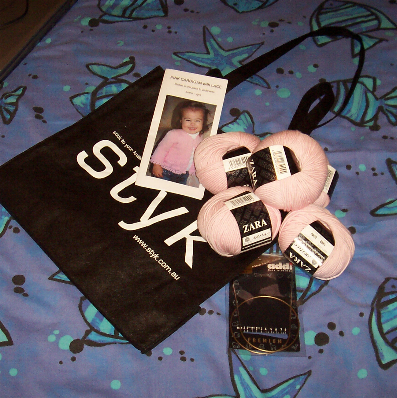 The cutest cardigan I've seen for a toddler. It can be seen in better detail here. I'm going to make this for DH's cousin's toddler. Zara, which I haven't knit with before, but feels lovely in the ball. As soon as I finish the lacy baby cardi, I'm going to start this. Winter of Lace, indeed :) I got one of the needles I need for my hat, too. The other will be in stock soon, but I don't need it for a while, not until I get that last ball of wool, anyway.
Emily got a ball of pink thick and thin yarn from STYK, and came home immediately to cast on a scarf.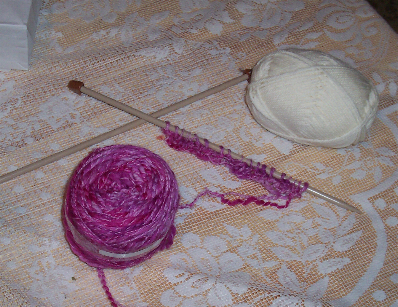 The only other thing I bought all day was this.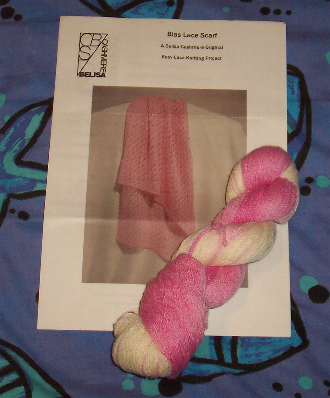 A cashmere scarf kit. I need another scarf (or another project for that matter) like I need a hole in the head, but it's cashmere! They had a scarf there for touchy-feelies, and I knew I had to have it. :)
So that was the big day. After the fair, we headed up to the sequin wholesaler for diamontes and beads for Em's new costume, then went for a wander, and crepes for lunch, yum :)
Today, my feet hurt, but it was worth it. Em and her duo partner competed their jazz duo dance at Penrith this morning. It's the second time they've competed with it, and they won it for the second time. Yay girls!
Twinkie would like someone to come outside and play, even if it is cold and wet and getting dark.
Sorry, no takers here.
Now I'm off to knit so I can finish the baby cardi, and then start the pink cardi :)
June 24, 2005
June 22, 2005
June 20, 2005
June 18, 2005
June 16, 2005
June 13, 2005
June 09, 2005
June 08, 2005
June 07, 2005
June 05, 2005
June 02, 2005
June 01, 2005