May 30, 2005
May 29, 2005
May 26, 2005
May 18, 2005
May 16, 2005
May 14, 2005
May 12, 2005
May 10, 2005
May 09, 2005
May 08, 2005
May 06, 2005
A bit of a fragmented post today, as that's how I'm feeling.
The sewing for Em's dance concert has started, so for the next 6 months I'll be buried in fabric, elastic, sequins and thread. It seriously cuts into my knitting time, and I'm almost always distracted, thinking of how to make making a pattern that fits 10 different kids, and still looks in proportion. Bleurgh.
However, I have been knitting a bit. I finally finished the Pink Pullover and the Baby Vest, but I keep forgetting to get Em to put the jumper on, so I still don't know how well (or badly) it fits, LOL!
Em likes it, and is happy with the star, so lets hope that it does fit nicely!
The baby vest. It just needs to have some ribbon threaded through the holes at the neck, but I'm still undecided. I don't really like the idea of ribbons around babies necks.
And the Bearfoot socks have progress!
The colour is very inaccurate - this close up is much closer.
I have also started the Baby Garter Stitch Wrap Top from Simple Knits for Chershed Babies, in Baby Alpaca.
I do have a problem with some of the gauges given in this book. I'm sure that somewhere years ago, I read that garter gauge is pretty much always twice as many rows as there are stitches. For example, 20 stitches x 40 rows = 10cm.
It's one of those quirky facts that I picked up somewhere, and it's always worked for me.
None of the gauges given in this book meet that "rule". And I can't get gauge.
The gauge for the wrap top is 28sts x 48 rows = 10cm. My row gauge is short. The gauge for the Garter stitch cardigan is 22sts x 36 rows = 10cm. Couldn't get that either. So, either I'm wrong or they are. It doesn't really matter, but it's throwing some of my shaping off.
My local Spotlight store is having a "Winter Fashion Parade" tonight. I think it's just Patons and Cleckheaton new season designs and yarns being shown, but they are offering 10% off any yarn bought, and they are giving away a hamper full of yarn and a pattern book, so I might go along, but I haven't really decided yet.
And apparently my brain is giving up at an early age. My DH has had some really good laughs at my expense this past week or so.
My birthday is coming up in a few weeks. And I've had the usual "What do you want for your Birthday?" questions. (Am I the only one who hates being asked that? I never know what I want). Somehow I had got it into my head that I was turning 35. I was musing on 35, thinking how I wasn't really concerned about turning 35. I'm only turning 34. I was making myself a year older. I truly thought I was already 34. DH got a giggle from that.
Then, last Saturday Em had a dance competition. It was at Seven Hills, maybe 45 minutes drive away. I was at the top of our suburb, and I turned left. I drove for maybe a hundred metres, and said "Good Lord, I've gone the wrong way, I need to go through Liverpool!" and turned around. DH and Em laughed at me. It got worse. I drove 100 metres in the other direction, and realised that I had been right the first time, and had to turn around again. I hadn't even made it out of our suburb.
Senility. Pass the chocolate. Who are you? ;)
A cute pic of Twinkie to finish. This is how she cleans her ears.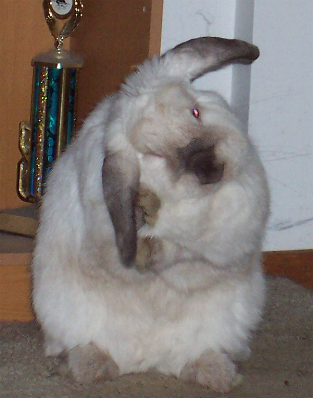 It's especially cute when she topples over backwards, LOL!
May 04, 2005
May 02, 2005
May 01, 2005