November 30, 2004
November 29, 2004
November 28, 2004
I don't know if anyone
I don't know if anyone remembers, but way back in August, Emily had her dancing exams. She learns ballet, tap and jazz and does an exam for each once a year.
Today was the annual presentation day, and I am very proud to say that Em came first in her grade for all three exams!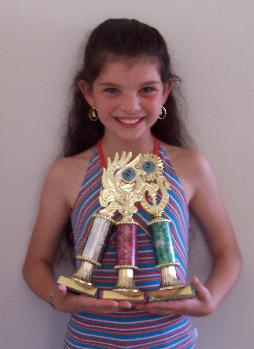 She is also very proud of herself. This is the first time she has come first in all of them in the same year. :)
That was a nice distraction on a stinking hot day. At least the studio where the presentation was held is airconditioned :)
I got bored with the Neckdown Pullover, and started a Bucket Hat. Clever, no? Bored with knitting around in circles, so I started a project that involves knitting around in circles. At least a bucket hat doesn't sit in my lap. I made it from some Red Heart Cotton Twist that Jill sent me (51% cotton, 49% acrylic). Compared to what we call cheap crap here (Panda Magnum to say the least) this is not bad. Ideal for a bucket hat for a toddler, in any case. DH's cousin and his wife had their first baby a year ago, and we will probably see them when we go on holiday, so I whipped up a pale pink bucket hat. Her mother isn't a knitter, and in the toddler/nonknitter mother combination, machine washable acrylic suits me (and them!) fine.
We have a squatter in our garage. The little bugger scared the living shit out of me this morning.
A blue tongued lizard. I opened the garage door this morning, and he had settled himself against it to absorb the heat. So as I rolled up the door, he fell out at my feet. I shrieked out "Shit!" and he ran back in as fast as his little legs would take him. He was back this afternoon as evidenced by the pictures here.
My husband assures me that we want him in there, apparently he eats cockroaches and mice. As long as he knows which part of the house is his, and which part is mine.
November 27, 2004
November 26, 2004
November 24, 2004
November 23, 2004
November 20, 2004
November 18, 2004
November 17, 2004
November 16, 2004
November 15, 2004
November 14, 2004
November 12, 2004
November 10, 2004
November 08, 2004
November 07, 2004
November 05, 2004