July 31, 2006
Well, it was a rather hectic weekend again!
Lets start with Saturday sky. This is the pic I took first thing in the morning.
Yet another perfect Sydney winter morning, I know.
Later in the day, we headed down to Stitch n Bitch, but more on that in a bit. However, we found prime material for Saturday Sky!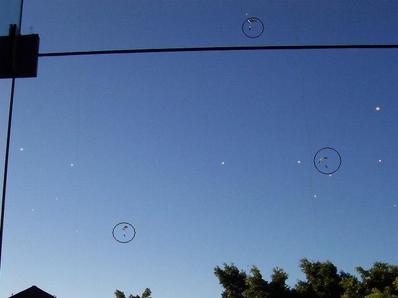 See them? The pic was taken through the window of the Wollongong Novotel. Here's a slightly better one.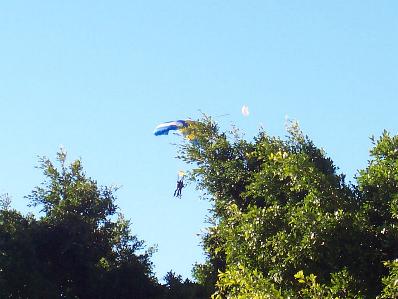 In other weekend news, it was SnB weekend. My sister-in-law was visiting from 1300km or so away. She's leaving our fine shores for the UK in 3 weeks, but I didn't let that stop me. I brought the whole family along to SnB.
I gave my sister in law the gloves, she was very enamoured of them. Then I said "I need them back now, to take to SnB, you can have them back this afternoon."
I'm fairly sure she thinks I'm rather odd.
David and his sister were happy to sip drinks and read their books, leaving me and Em to get down to serious knitterly business.
Ailsa tried to teach Em to crochet little flowers.
I caught up with Jussi and Sharon.
Then I put the camera away and forgot to take more pics.
SnB was wonderful fun, as always. Wonderful company, and great inspiration from all the lovely projects.
Yesterday, we took SIL to the Sydney Fish Markets for lunch.
In a word, Yum.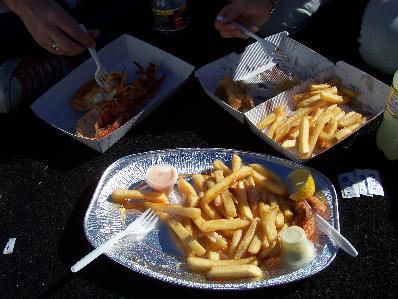 I should've taken a picture before we demolished it!
We sat on the jetty in the sunshine and enjoyed the food and watched the seagulls trying to steal food.
They're very brave little souls. There was one guy, chatting on his mobile phone, and the seagulls were walking right up and stealing the food from under his nose.
I even got a little knitting done.
The black blob, otherwise known as Icarus is growing, albeit slowly. I've done 2 out of 5 repeats of chart 1.
And I'm already thinking about what I can do next.
July 27, 2006
July 26, 2006
July 24, 2006
July 23, 2006
July 22, 2006
July 20, 2006
July 18, 2006
July 15, 2006
July 13, 2006
July 11, 2006
July 08, 2006
July 06, 2006
July 04, 2006
July 01, 2006