February 27, 2011
Hats and socks
So I think these two items may well be the only things I've started and finished since I started work, but hey, it's something, right?
A while back, my very good friend Jill sent me a bundle of magazines, including Interweave Knits Holiday Gifts 2010. Immediately, the Bohus-Inspired Hat by Mary Keenan caught my eye. Then I started work, and we stocked Felted Tweed, exactly the yarn called for in the pattern. Meant! to! be!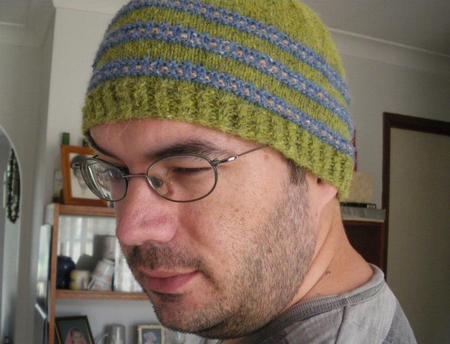 However, it's been dubbed the Bogus hat, as that's what the spell check keeps correcting it to.
Specs:
Pattern: Bohus-Inspired Hat by Mary Keenan from Interweave Knits Holiday Gifts, 2010.
Size: Large +
Yarn: Rowan Felted Tweed from Calico & Ivy Balmain, Main colour: Avocado, Contrast colours: Maritime and Camel. (1 ball of the main, scraps of the contrasts)
Needles: 2.75mm & 3.75mm
It suits him so well, and he likes it, too.
David has a lot of hair, so I usually make the hats larger than usual. He also likes hats to cover his ears. So I made the Large size, but it still looked a little short. I was going to do an additional repeat of the colourwork, but in the end I just did a little more stocking stitch before I started the shaping. The pattern says you'll need two balls of the main colour for the large size, but I only used one, with a little left over.
Now he just needs to wait for the weather to cool down!
And I finally finished the Shur'tugal socks for the SSSSSSSSS06 (or something) KAL. I can't say I loved these socks. In fact, fairly early on I dubbed them the Shitugal socks. They weren't hard, or anything like that, I just didn't enjoy knitting them. I'd started them in Madeline Tosh Sock in "Clematis", but the pattern was obscured, so I started over in the Wollmeise Vamp.
And I'm very glad I did!
I am pleased with the end result, so I'm glad I stuck it out.
Specs:
Pattern: Shur'tugal socks by Alice Yu (free Ravelry downlaod)
Size: Large
Yarn: Wollmeise 80/20 Twin in Vamp
Needles: 2.5 and 2mm DPNS
Mods: The only mods I made were that I used 2.5mm needles on the legs and 2mm needles on the feet to accommodate my cankles. And it worked beautifully!
Both jobs are going beautifully, although they're taking up a lot more of my time than I was expecting! Calico and Ivy is such a lovely place to work. I'm constantly inspired by all the beautiful things, but this week was especially wonderful.
All the new Liberty Tana Lawn arrived. 100 bolts of the new Seasonals. It brings our range to something like 200 different prints in the Liberty range. If I could, I'd bring it all home!
Soon, we'll be looking at the Rowan yarn stocks for Winter. Which Rowan yarns would you like to see stocked?

February 13, 2011
Here's something I prepared a little earlier..
Here's a little something I prepared earlier! (Back in the olden days, when I still used to knit ;)
Late last year, egged on by some like minded individuals, I joined the MadelineTosh yarn club.
The first parcel that arrived back in November was the gorgeous MCN worsted in the colourway "Laurent". Loved it immensely, and it hit the needles almost immediately. It wanted to be a Bellevue cardi. And so it is.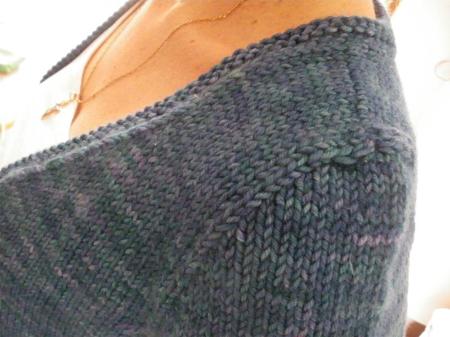 I raved a little bit back in December about how much I loved the sleeve caps. And you may notice that in that same blog post, dated December 11, the cardi was, for all intents and purposes, finished. And there it sat, blocked and unblogged. I have no idea why. But this morning, casting about for something to blog, I spotted it and remembered that it was waiting, patiently.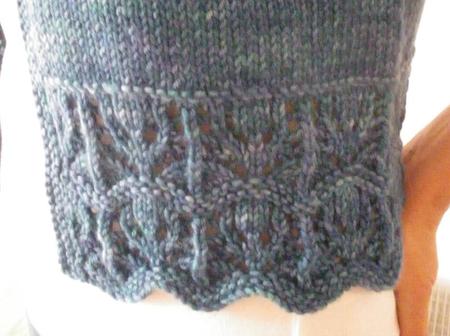 I'm loving it! It's still a little too warm for a worsted weight cardi, even with short sleeves, but it won't be long until I'm reaching for it regularly.
I acquired some undyed Wollmeise with the intention of knitting the fingering weight version for Em, but other things have distracted me so far.
Specs:
Pattern: Bellevue by Laura Chau
Yarn: MadelineTosh MCN Worsted in "Laurent"
Needles: 4mm KnitPicks Harmony circs
Comments: The sleeve is just gorgeous. The cardi is knit in one piece from the bottom up, and the set in sleeve is knit in place. And it's just a work of art. A better fit for me than some of the raglan sleeves I've done.
Highly recommended! (also works well when being used to cover up the fact that there's nothing to blog about!)