May 21, 2013
May 12, 2013
April 12, 2013
April 07, 2013
January 31, 2013
January 25, 2013
January 01, 2013
December 26, 2012
December 09, 2012
So, Sewvember happened and I failed miserably at blogging any of it at all. Go, me! So instead you get a very brief wrap up. (But hugely picture heavy!)
A bunch of Aussies decided to christen November Sewvember. People had different plans for the month - some planned only to make at least one item, some planned to sew a little every day, some planned to wear handmade all month. Knowing that I am all kinds of useless at sticking to anything, I just planned to wear as much handmade as I could and make a sizeable dent in the sewing pile. Success at both!
I finished my Colette Hazel dress in Nani Iro Fuwari Fuwari. (Same fabric as the original, different colourway, obtained from Calico & Ivy. This one was finished and worn in Sewvember.
Mostly a success. The bodice is a little big, and I might remake it. I had loads of fabric left over - almost a metre. I'm finding a lot of the smaller pattern companies tend to overestimate yardage requirements.
Next up is Butterick B5317 in a printed linen. Love this dress, I made it last year, but wore it in Sewvember. Actually, I wear this one a lot. The cardi is the Bellevue Cardi by Laura Chau in MadTosh MCN Worsted.
Next up, a skirt from New Look 6843 in a Sevenberry fabric from Calico & Ivy. I love this pattern, and use it a lot. It's view E.
Next up, two patterns, one outfit, one designer. It's the Kelly skirt and Banksia blouse from Megan Neilsen. The skirt I made in a grey linen/cotton blend and the blouse in Liberty Tana Lawn, both from Calico & Ivy. Great patterns! The waistband on the skirt is a bit big and needs taking in, otherwise they're great. Apologies for the blurry pic.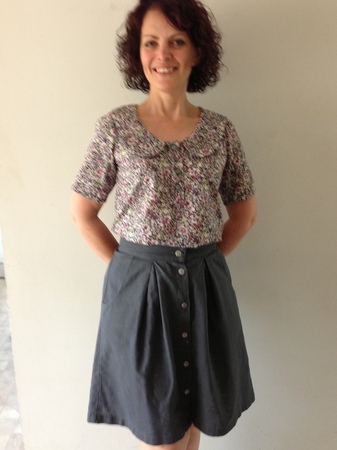 And another Megan Neilsen, the Darling Ranges dress in one of my favourite Liberty Tana lawn prints. Great pattern, but I didn't do the waist ties, and I should've. I'm thinking I might add some shirring at the back, just to nip the waist in a little.
Another older one, Simplicity 2196. It has pockets! One of my biggest gripes with the big pattern companies is the lack of pockets. I need pockets! What is up with that? Random cotton print from somewhere. Crap selfie ahead.
Are you bored yet? There's more. I had no idea I was so prolific.
I discovered Sewaholic patterns. I'm in love. Really. Lonsdale. In a red polka dot cotton. LOVE!
I made a few adjustments. On the advice of missfee, passed on from her sister, I added boning to the side seams. I also completely omitted the bow at the back, and just sewed the straps down. I lined the skirt and added lace. Because I like pretty!
And Sewaholic Cambie. In navy with white microdots, and white piping, version B.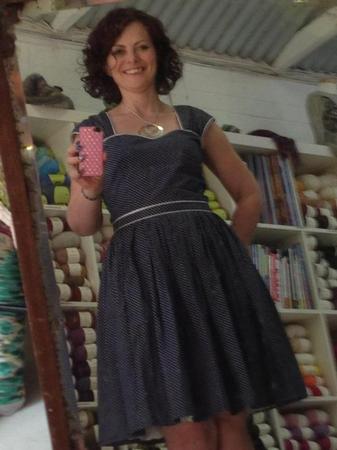 And version A in a random floral cotton print. I like the fuller skirt better, but I still like this one. (And pockets in all of them!)
No mods to the Cambie patterns - except adding piping to the first one, but nothing major.
Still with me? Colette Chantilly, made last year, still in the rotation. Made in a random cotton voile. Still a favourite.
Sew Liberated Schoolhouse tunic in a Denyse Schmidt voile from Calico & Ivy. Simple, easy to wear. Made last year, worn in Sewvember.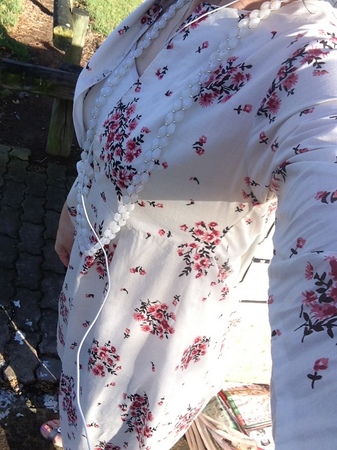 Basic A-Line wrap skirt made in one of the new Liberty Art prints from Calico & Ivy. I adapted the New Look pattern mentioned earlier. Made and worn in Sewvember.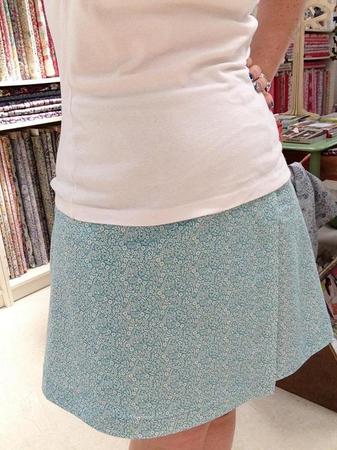 Lisette Market Blouse in a Lisette voile. Made last year, worn in Sewvember,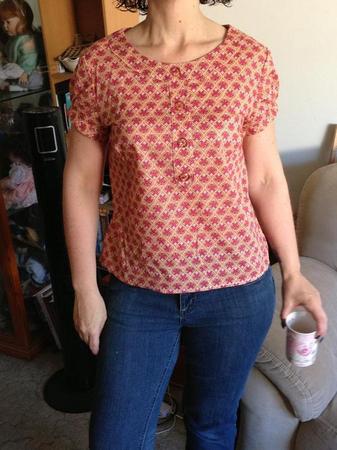 New Look 6977 t-shirt. Superquick, easy. Made and worn in Sewvember. Also washed in Sewvember. When it shrank and widened and became unwearable. Bummer.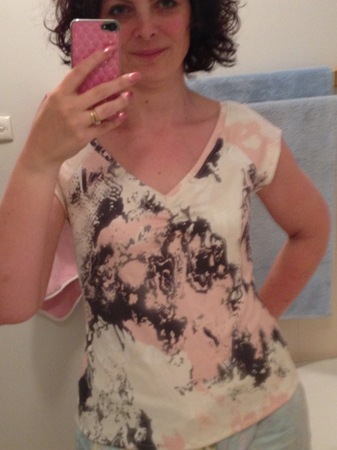 And last but definitely not least, New Look 6457, view A in a random cotton print. Made last year, or maybe even the year before. Worn with Kim Hargreaves Buttercup top, an old favourite. (Gotta get some Kim in there somewhere!)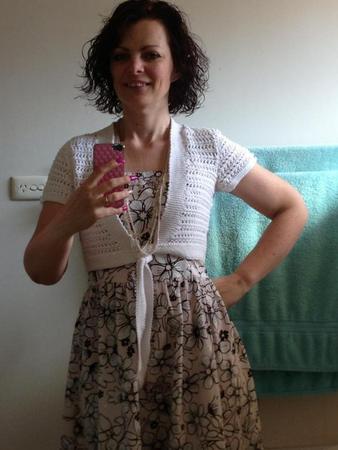 Maybe next time I won't store it all up to post at once.
Final thoughts - I like the independent pattern companies much more than the big ones. Of the big ones, I like New Look the best, although their sizing is plain stupid. Not at all realistic. And what's with the big companies leaving pockets off everything? Pockets are important!
I find the smaller pattern companies make patterns that are more true to size and with much, much better instructions that the big companies. They also fit better. And have pockets!!
And pink is still my favourite colour.
October 19, 2012