August 21, 2011
Fancy Schmancy
So a few months ago, I was at work and the new Rowan magazine had come in. (Issue 49)
Before I even opened the magazine, I knew what I wanted to make. Not the front cover garment, but the one on the back cover.
Fancy.
Love at first sight. I immediately picked out the yarn, Kidsilk Haze in "Heavenly", and there it sat for a little while until I'd finished some of the projects already on the needles.
And while it was eventually cast on, it wasn't a quick knit. For a variety of reasons - it wasn't any good for knitting in company, so it didn't come along to work, or to knitting groups. When we went away on holiday for a week, I didn't take it along, it was a little too complex for car knitting. And I just don't get as much time to knit as I used to!
But eventually, it was done.
And the love hasn't diminished.
Specs:
Pattern: Fancy by Erika Knight, published in Rowan 49.
Yarn: Kidsilk Haze in Heavenly, 4 balls, purchased at Calico & Ivy, Balmain.
Size: Small
Needles: 3.5mm
Mods: None. I had to go down to a 3.5mm needle to get the correct tension, the pattern calls for 4.5mm. Everything else was done exactly to the pattern.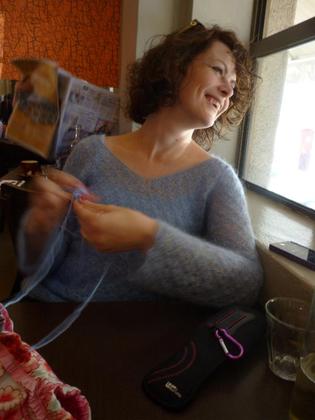 It's not an easy pattern, but it wasn't too bad. Having said that, I love lace, and I love complex knitting. Your mileage may vary! It's a four row repeat, one of which is a plain knit row, but there are lots of K5 together, make 5 in one, that sort of thing. And you need to be able to keep track of your lace patterning while shaping.
Have I mentioned that I love it? And I love, love, love Kidsilk Haze. It's like knitting with a cloud - and the jumper is surprisingly warm considering how light it is.
A pattern appropriately named Fancy, knit in a yarn shade called Heavenly. What's not to love?!?
August 03, 2011
Two finished projects!
A super quick post, to bring you all up to date-ish. I've been busy, finishing. I've had so many projects on the go that it's made me feel quite frazzled. I like the calm of project monogamy.
But I had Fancy on the needles for myself, and that was a little complex for carry around knitting. So I started Smoulder for Em. Then we went to Victoria for our holiday, and Fancy was too complex for holiday knitting and Smoulder was too close to complete to take along, so I started Edie. For the shop, I was working on Floyd.
Then it all came together, and all were finished in the same week! First off was Smoulder, for Em.
Specs:
Pattern: Smoulder by Kim Hargreaves from her "Whisper" book.
Yarn: Garnstudio DROPS Kid-silk, 4 skeins. A swap gift from BlueADT!
Needles: 3.75mm, 4mm, 6mm and 7mm.
Mods: None
Overall: I'm happy with it, but not ecstatic. Em is ecstatic though, so it's all good. The sleeves are really narrow. In the book they're really long, which Em liked. But when she puts it on, because the sleeves are so narrow, they draw right up.
It knit up really quickly - you hold the yarn double and use one small and one large needle. I used my Knitpro Harmony interchangables, one size on each end, and it worked a treat! (Yay for interchangeables!)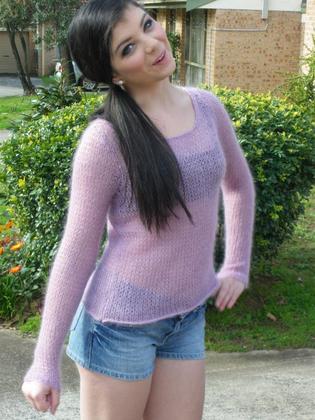 Would I knit it again? Maybe. It's a great piece, and knits up quickly, but I'd either knit a size larger than I think,. or add length. I used up almost all four balls, so I'd need an extra ball to lengthen any part of it. And I crocheted around the neck - only a row of double crochet, but still! Crochet! Me!!
The other finished project was Floyd for the shop. Cute, cute, cute!
Specs:
Pattern: Floyd from Rowan Miniature Classics by Martin Storey
Yarn: Rowan Handknit Cotton 3 balls.
Needles: 3.25mm and 3.75mm Addi turbos
Mods: None
Overall: Cute! I love this book - it's the one that also has the "Blossom" bolero that I finished recently. It's full of supercute baby knits! Quick and easy to knit, too.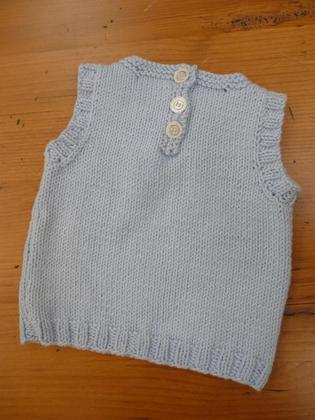 I don't have pictures yet of the other finished knits - I'll save them for next time. Blog fodder!