November 26, 2008
Poor neglected blog!
Oh, poor neglected blog! I don't quite know where the days are going.
Em has officially finished school for the year, and is home with me now. Until January 29th. We'll see how that goes. One of us may kick the other out long before the end of January!
There has been knitting happening, amongst lots of other busy things. And I've been tagged for memes and things that I really haven't had time to think about yet, but I promise I'll try.
Today, lets get Evie done.
The weather here has turned unseasonably cool, but I'm not complaining. It's given me plenty of opportunities to wear Evie!
We went to my niece's 13th birthday party on Saturday night, and it was Evie's first outing, but unfortunately, photo's weren't great.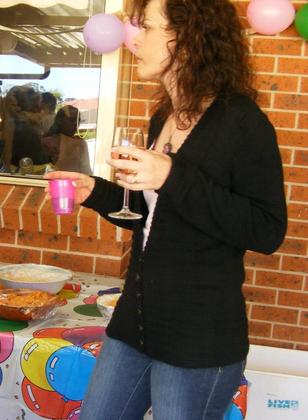 You lose a lot of the detail in that picture.
Here's a better one of the cardi itself.
Specs:
Pattern: Evie by Kim Hargreaves. I bought it as a kit, but now it's only available in her book, Thrown Together.
Yarn: Rowan Classic Cashsoft 4ply in Black
Needles: Knitpicks fixed circs in 3.5mm.
Modifications: None.
Yup, none. I knit it exactly as the pattern said and was 100% happy with it. Well, almost. Actually, the sleeves are a little long, so that's something I may change if I were to knit it again. It did seem to drag on forever, but that had more to do with the fact that it was 4ply (fingering) weight on 3.5mm needles. And I wish I'd known the sleeves were coming out long, because they really seemed to go on and on.
Love the yarn though, it's beautifully soft both to knit with and wear. I haven't done a full wet block yet, I just steam blocked it, so I'm hoping it doesn't grow, because I'm happy with the fit.
Twinkie is not at all concerned by the cooler days we've been having. In fact, she's about as relaxed as she gets.
I have no idea how she gets so flat. She must have rubber bones, I think!
November 17, 2008
November 13, 2008
November 08, 2008
November 06, 2008
November 04, 2008
November 02, 2008
November 01, 2008