January 22, 2011
Not recommended
I'm still here. At least I think I am. To anyone playing along at home, whilst I was at work on my second day at Calico & Ivy, my other new job called, and asked me to start on Thursday last.
So essentially, I started two new jobs in one week, after the luxury of having no job at all for almost a decade. It's not bad, it's actually quite fun. But not so fun is working out how to effectively arrange my time. And the blog, and my knitting have suffered. I could also say that the housework has suffered, but let's be honest, it was never at the top of my priority list!
But I did manage to get something done this week! The linen top I've been working on, the one I've knit twice in fact, is done, done, done!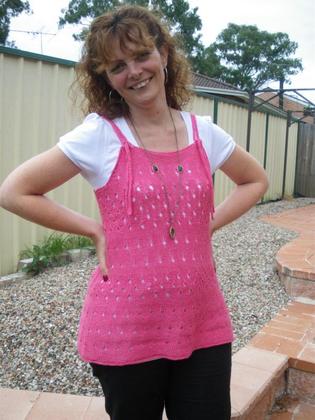 Specs:
Pattern: Coco by Yumiko Alexander
Yarn: Fibranatura Flax in "Raseberry", purchased at The Wool Inn
Needles: First off, 3.5mm, then 4mm. Check your tension!!
I'm very happy with it - I finished it on Monday night, and wore it to work on Tuesday. I even did the two rows of single crochet around the bottom and the single row around the top. Whomever said that crochet is quick lied. Lied. Lied. Lied.
But it's done, even though Knitabulous thought I'd either whine all over twitter about the crochet, or try to palm it off on her. The shoulder straps are just i-cord, which I knitted on the way down to Canberra last weekend when we went to see the Ballet Russes exhibition at the National Gallery - which was gorgeous!
so the top is lovely, and lovely to wear, too!
Next? Not sure. There's a few small projects floating about, like the Pompom Tea Cosy for a shop sample.
And the restarted Shurtu'gal socks, this time in red Wollmeise (Vamp)!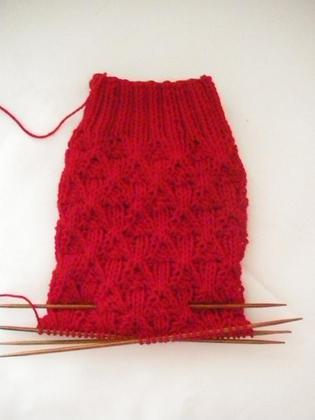 Much better than the original, although they've barely been touched in days!
I've also picked up some Felted Tweed from the shop (amongst other things ;) to make the Bohus Inspired Hat for David from the Interweave Holiday Gifts 2010 issue. Which my spell check keeps wanting to change to Bogus. Bogus Hat it is!
January 10, 2011
Re Entry!
So today, after 9.5 years of being a stay at home mum, I re-entered the workforce. If you can call it that. Hanging around at Calico & Ivy, Chatting with the lovely customers, assisting them with their purchases and groping stacking shelves with gorgeous Rowan and Debbie Bliss yarns is almost too much fun to be called work!
The Rowan range.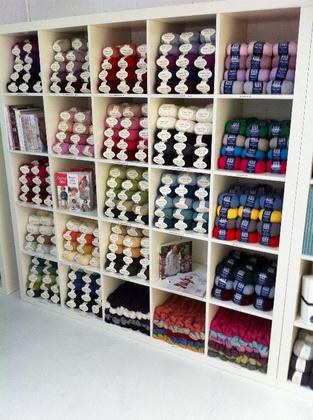 The Debbie Bliss and Millamia. Still to come - Koigu!
Apologies for the blurry photos, the iPhone wasn't co operative today. And on my trip to work, I worked on my Shur'tugal socks for the Super Special Six Pattern Sock Club 2011.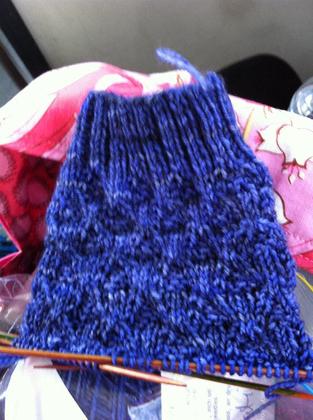 Disappointing! The yarn (MadTosh sock in Clematis) isn't hugely variegated, but it's enough that the pattern is obscured. Kris came into the shop today, and I saw hers - they look great. So I'm ripping and starting over with a solid yarn. Maybe some red Wollmeise!
January 03, 2011
No Knit New Year
Happy New Year! Welcome, 2011, so far you've been pretty good.
Well, except in the knit department. 3 weeks or so ago, I started a little linen top for myself. I briefly mentioned it here. I finished it up on Boxing Day as we sat at the old Quarantine Station at Manly and watching the start of the Sydney to Hobart.
Today, it looks like this.
Because I am a total knitting moron, I never checked my tension. Ever. Not even once. I didn't even wonder about it. I just cast on with a needle one size smaller than recommended. Because that's what I always need to do. Always.
Except not this time. It was too small. I could get it on, but it was just wrong. Like, recommended tension is 19sts/10cm, and I was getting 23sts/10cm.
R-I-I-I-I-I-P. And start over.
The knit mojo is not strong with this one.
So instead, I've been sewing!
I don't know if I've ever shown the Interchangeable Cases I've been making for the shop here on the blog. I had a quick look through the archives but didn't see them
In any case, this is what they look like.
There's a double row of needle pockets.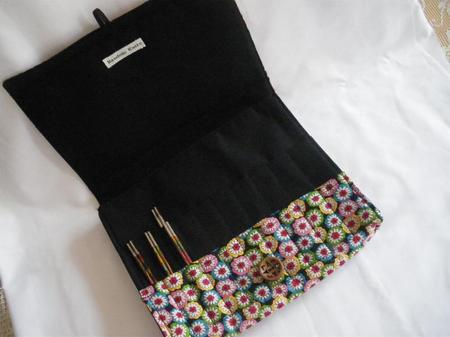 And there's a zipped pocket behind the needle pockets for your cables, needle sizer and other bits and bobs.
I'm pretty happy with them! There's a few different ones up in the etsy store right now.
And we've been doing a huge cleanout lately, getting rid of a bunch of stuff. I came across my Amy Butler bag patterns that I'd bought, then never got around to making. And decided it was time to change that! So yesterday I made myself a "Sophia" bag.
I really like this bag! I used Amy Butler fabrics, "Passion Lily" in Pink for the exterior, and "Laurel Dots" in Cerise for the lining, both from the Soul Blossoms range.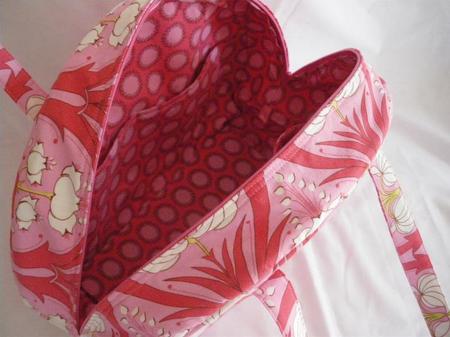 I followed the pattern almost to the letter, except that I made the handles a little longer, and I added some purse feet to the bottom, in the hope that it'll last a little longer!
I'd read a few pattern reviews online before I got started, which recommended extending the handles, and I'm glad I did. A lot of reviewers thought that the piping around the bottom added unnecessary bulk, but I didn't have a problem - but I did take the designers advice and used a heavyweight machine needle, which really did help. I found the pattern really easy to follow, but she gets a bit wordy at time! Probably not a pattern for a beginner, but an adventurous beginner might be okay with it. I do wish it were a little sturdier - I used lightweight interfacing and I'd probably use a mediumweight if I were to do it again.
One thing I'll say is that I think she overestimated the amount of fabric required! Particularly the lining fabric - I had more than half a metre left over. So I also made myself a little purse to match, with another of her patterns, the "Stash and Dash" bags. I have made this one before, way back when everybody was doing the "pay it forward" thing a couple of years back I made a few to give away, but I never made one for myself!
This is the smallest version, the coin purse.
I think this one is a bit fiddly, especially around the zipper, but it works - and it's cute! I especially like the pleating at the bottom which gives the bag it's shape.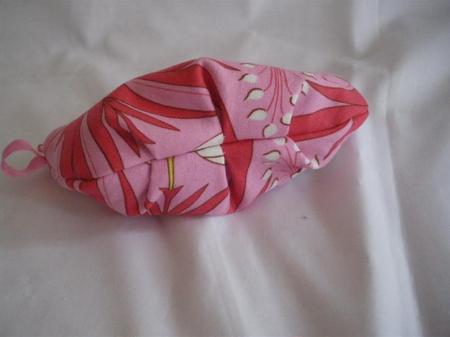 I may even use up the rest of the fabric making the other sizes! (Or maybe I'll knit for a bit)
Twinkie has been absent from the blog for a while, but don't worry about her too much, she's still ruling the roost.
And Santa must have decided she was a good bunny this year, because she got her favourite compressed hay cubes for Christmas!