December 21, 2009
Road Tripping
So dark and early tomorrow morning (just 6.5 hours from now), we're road tripping for Christmas. We're off to sunny Queensland to visit the in-laws. Then a few days on the Gold Coast before coming home via Nundle (and the Wool Mill).
The Lacy Kerchief is finished, but not yet blocked. The silly season has gotten the better of me over the past few days, I fear. I did however, start something new.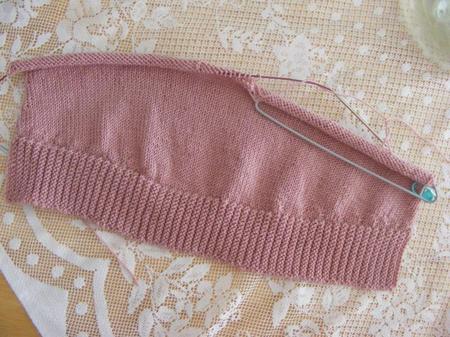 Funny, after Venezia, working on a garment in just one colour seems so fast, even when it's 4ply (fingering) on 2.75mm needles!
This is the start of the gorgeous Rosa by Kim Hargreaves. The pattern calls for Rowan Cashsoft 4ply, but I'm substituting Rowan 4ply soft in Tea Rose.
This is my road knitting - 1,000km each way, so hopefully there'll be plenty done by the time I get back.
I did pull the Cap Shawl out of hibernation last night, and did 3 rounds on it, but I remember why it's been in hibernation now. It's boring! I had planned for it to go into the Easter Show, and maybe it will - not sure what year though!
I also had forgotten to mention the wonderful last sock club package in this round from Needlefood!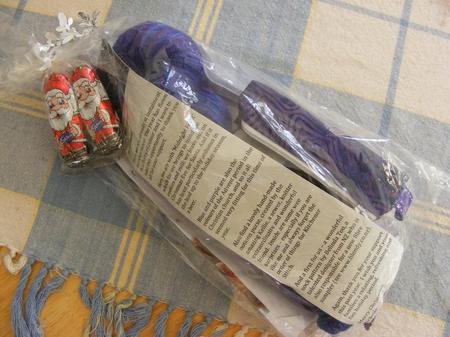 Chocolate, and yarn in a gorgeous colour!
As well as a cute little pouch, stitch markers, a sock pattern and a handy note with kitchener instructions. It's a great sock club! If you're interested in signing up, the next round will open up in mid/late January. If you sign up for the newsletter at the website, you'll get a heads-up when it's about to happen!
If I'm not back here before Christmas, (I'll be popping in on Ravelry, and on my email and twitter - I love my iPhone!) I wish you all a wonderful day with family and/or friends, with much love and comfort, I hope you enjoy the silly season, even if you don't celebrate!
December 18, 2009
December 14, 2009
December 11, 2009
December 08, 2009
December 02, 2009