Okay, back to knitting 🙂
Or seaming, as the case may be. Ribby is dry, and ready for seaming. Now, I can sew, I usually enjoy sewing, but seaming up my knitted garments just doesn't seem to fall into that category! I did the front bands last night, so today I hope I can do all the side and sleeve seams, and get started on the collar. Still don't have a zipper, so that won't be done today.
I cast on for Em's cardigan, straight old stockinette crewneck cardigan with a dropped shoulder. Easy peasy.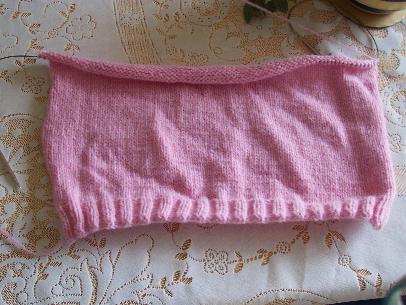 When I looked at it, I couldn't believe how much I'd managed 🙂 I said it the other day, but I
really
like this Nundle wool. Soft, knits up in a nice dense fabric. Recommended gauge is 22sts=4″, but I'm knitting it at 20sts=4″, and I can't imagine it knit any tighter.
I also need to glue 400 or so rhinestones on Em's new dance costume. So I'd better stop blogging, huh? 😉