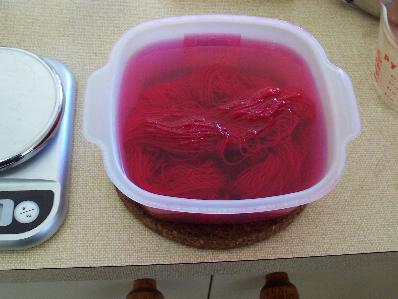 Would you like bread with that? 😉
Seriously, this is as close as I get to baking. My DH is a far, far better cook than I. The thing i do best in the kitchen is eat. And dye.
The newest sock in the Six Sox knitalong is a stashbuster sock that calls for leftovers of at least three different sock yarns in solids.
I don't have sock yarn solids leftovers. I recently bought 3 colours of solid sock yarn from elann, but I bought enough for pairs. So I took the two balls of cream that I bought, and I'm dyeing 'em. Conveniently enough, I have 3 colours in the Landscapes dyes that I bought to dye the yarn for Clapotis. So today is messy in the kitchen day 🙂
The weather is much cooler today, although I must admit I have been distracted from my knitting lately. I got some books I ordered on Tuesday, and one was a Romantic Fantasy book from an author I very much enjoy, Anne Bishop.
I used to be a much more avid reader than I am now. Now I don't make enough time for it, and I tend to read when I fall into bed at night, usually falling asleep after a page or two.
I prefer fantasy, and horror, with my favourites being Anne Rice, Stephen King, early Raymond Feist, Anne McCaffrey and the like.
But I
really
like Anne Bishop. The newest release is called "Dreams Made Flesh" and is a trilogy of novellas related to an earlier trilogy she had written, the Black Jewels Trilogy. Romantic fantasy indeed. I finished the book in 2 days, and am feeling very sleep deprived.
Long time since I finished a book in two days 🙂