Let's try this again!! To be fair, 2013 was an exceptionally busy year. I'm trying, really I am, but some things are sliding. Sadly, it seems so far to have been the blog and actual knitting.
For the past few years I've done an annual wrap up, talking about the knitting I managed in the prior year. Lets just say that I checked Ravelry this morning, and in 2013 I managed to finish 16 items. All year. I was disappointed a year ago when I only managed 26 in 2012. In 2011 I did 32. 2010, 35. 2009, 33. Sliding!
But it was a big year. I finally got a permanent job after more than 2 years of casual employment. Calico and Ivy (sadly) closed. I enrolled in Uni. Then I spent two months trying to get re-enrolled. Still trying. We bought a block of land, and are int he (exhausting) process of trying to have a house built on it.
I lost a lot of prime knitting time when Calico & Ivy closed in early May. In mid June I was made permanent at the Library, and got a 20 hour a week part time job. Ha! I don't think I've done less than 30 hours a week since I started, and often 40 hours or more. Uni has been taking a lot more time and effort than I was expecting. The work has been a rapid learning curve, but the last two months of trying to fix my enrolment have just been a constant, exhausting, frustrating nightmare. The house building is another exercise in frustration. Everything moves so slowly and requires so much paperwork. The land is ours (well, the banks!) the house is chosen, all the exterior colours and upgrades have been chosen, we've even decided on where to put all the electrical points, blah, blah, blah. Now there's paperwork and red tape in our way. At this point, we're thinking we might see the slab laid in April.
But I started today by doing my best to increase the finished item count for 2014.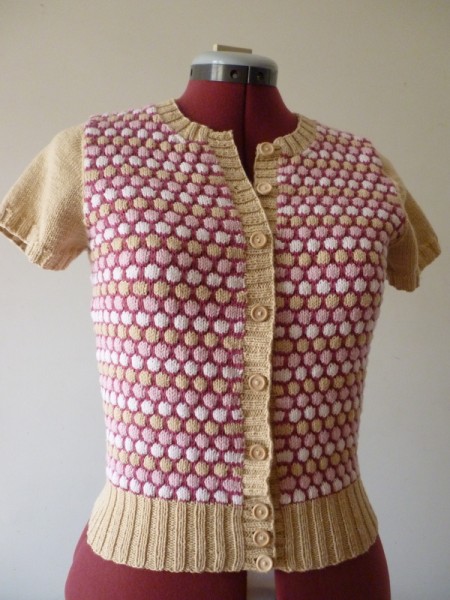 My Pink Texas is done!
Specs:
Pattern: Texas by Lisa Richardson from Rowan Studio 31
Yarn: Rowan Wool Cotton 4ply purchased at Calico & Ivy (the shop might be gone, but there's still a lot of stash hanging around from there!) in String, White, Petal and Flower
Needles: Dyakcraft 5″ Heavy Metal circs in 2.25mm & 2.75mm
Mods: None! Well, almost none, apart from the colour change. The pattern does say to use smaller buttons for the three lower ones, then bigger ones in the top part. I had both sizes, but there was no way the bigger ones were going through the button holes. Fortunately, I had plenty of the smaller ones.
I've bought some fabric to make a dress to go with it, but I haven't got around to that bit yet!
Next up, I'm getting back on a long neglected horse.