December 31, 2008
Reflection
We've had a great Christmas week, complete with lovely gifts, great company, too much food and alcohol and general relaxation and reflection.
My lovely friend Jill lives on the other side of the world, yet she knows me so well. She sent me awesome Christmas gifts.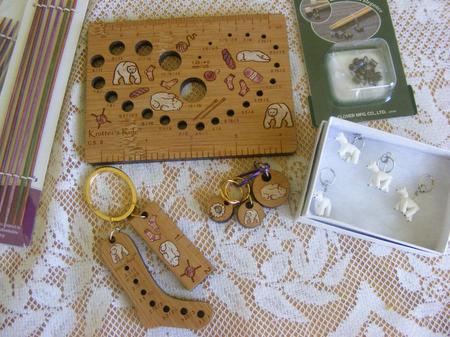 Love it all! The bamboo knitting gauge and sock gauge are so cute with the little polar bears! I'd been seeing them and admiring them on other people's blogs, and now I have them!
Santa brought Twinkie a treat, too.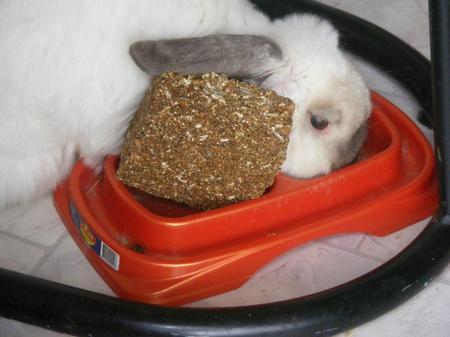 It's still going, although much reduced now. She had her annual vet visit today, and was pronounced in excellent health! Now of course, she's mad and sulking that we dared take her to the vet.
So 2008 has been a pretty great year all round. Our trip in the USA, meeting lots of wonderful people who I'd love to see more often and getting married in Hawaii was just the start. Highlights of the year knit and internet wise include Knitting Camp, the Exhibition, placing the Shetland at the Easter Show and Bendigo Wool Show, meeting lots more internet buddies.
It'll be pretty hard to top that. I'm not making any New Years Resolutions, because for me, it's meaningless. I tossed around the idea of only knitting from stash, but that's a rule that begs to be broken. I thought about swearing to knit a minimum of 1500 yards a month from my stash, but that's a pretty big ask. And even if I did, and I didn't buy any more yarn, it'd take me 5 years to knit the stash on Ravelry. (And not all of my stash is on Ravelry!)
In 2008 I pledged to knit a pair of socks a month in an effort to work on the sock stash. I didn't finish my December socks, but I was ahead by a pair anyway, so I succeeded in that goal. However, I added more than 12 skeins of sock yarn to my stash this year, so I guess I didn't really succeed in that goal, did I?
So after mulling it over, I'm not going to make any firm goals, I'd just put too much pressure on myself.
Instead, my goals in general are:
Appreciate more. Acquire less. Aspire higher.
Not just in relation to my knitting, but they work there too. I need to learn to appreciate what I have. In terms of knitting, I have a pretty impressive stash of gorgeous yarns. Why do I feel the need to keep buying more? I need to appreciate what we do have instead of focussing on what we don't. We're healthy, we're well fed, we're clothed and housed. We're loved, and we have some pretty awesome friends and family.
And aspire higher - for me this is on a personal level, rather than a material one. Achieve more, aim higher.
Of course, David and I were discussing all this on our way out to dinner tonight.
Before some idiot in the car park at the club wasn't watching where he was going, and hit us while we were parking our car. No-one was hurt, and the car was only scraped a little. But it's just the car, right? It's fixable.
Bring on 2009!
Posted by Donna at December 31, 2008 08:52 PM

Comments