July 21, 2008
Melbourne
What a week. Where do I start?
We drove down to Melbourne last Tuesday, leaving the first time at 5.20am. About fifteen minutes after we left, I asked David if he was sure he'd turned off the grill.
He wasn't sure, so we turned around and came home. Of course, he'd turned it off. So at 5.45am, we headed off again. Had a great run down, and the fibre-y goodness started later that afternoon after we crossed into Victoria. We stopped in at the Australian Country Spinners Mill Store.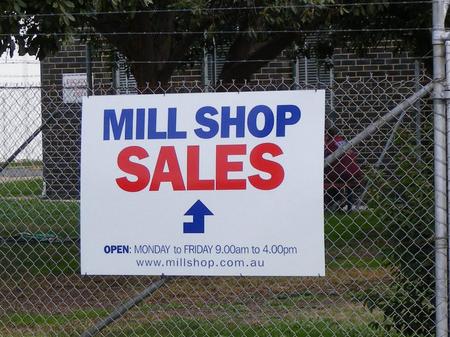 Lots of good stuff inside. I was very well behaved, though!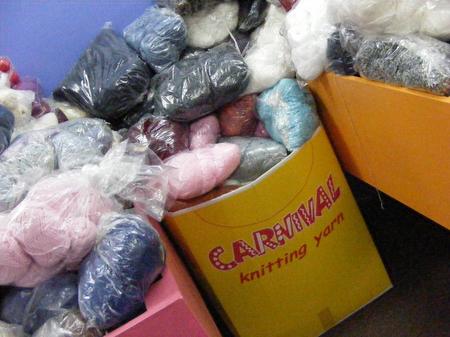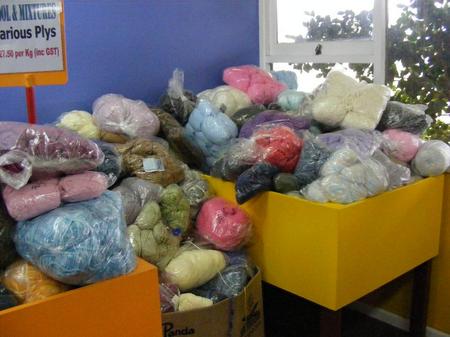 Those were the best bargains. Boxes of end runs and stuff, bagged up, unlabeled and tossed in a box for sale at $27.50 a kilogram. That's less than $1.40 per 50g ball. If you know what you're looking at, and you know what you want, it's awesome.
Alas, I had no specific plans in mind, so all I grabbed were two bags of the sadly discontinued Cleckheaton Merino Supreme, a total of 1.1kg, costing me $31.75. Yay me!
We spent the next couple of days in Melbourne staying with some very good friends, and visiting the Melbourne Zoo and the Melbourne Museum, both of which were great fun.
Then, last Friday, Meaghan from Yarns Online picked me up and we headed off to Bendigo to the Australian Sheep and Wool Show.
Heaven is in Bendigo, but it's colder than I imagined.
Friday night we had a get together with some of the ravellers in attendance that was just awesome fun! I didn't take the camera out unfortunately, but it was a great night - great company, great wine and knitting. The food service was horrendously slow, but they do a fantastic cheese platter at The Wine Bank.
Saturday morning bright and early, (and super cold!) we headed off to the ACS sponsored BBQ Brekky. I am not a morning person by any means, but it was well worth getting out of bed for. I got to meet so many of the Ravellers I've spoken to, and put names to faces. Lots of old friends, and new.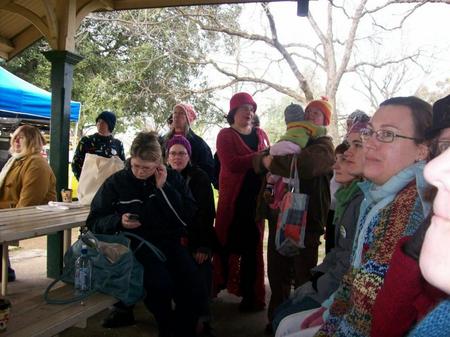 Unfortunately, my hands were too cold to take many pictures. There was bacon and eggs for breakfast, some cool prizes to be won and great company.
We then headed over to the show itself. There were cute sheep and alpacas.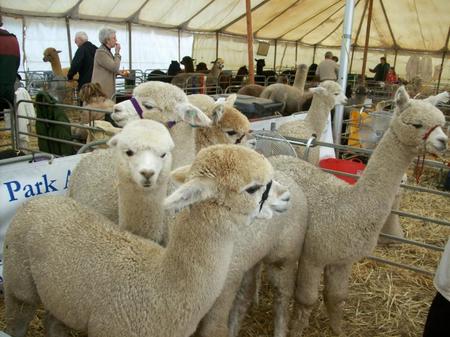 And there was yarn. Lots of gorgeous yarn. Again, no pictures. I blame the yarn fumes.
I did bring home a pretty haul.
Lace weight and fingering weight from Waratah Fibres, Dyes and some Artisan Gossamer from Virginia Farm Woolworks, yarn with silk from Shiloh Wool, lace weight from Pear Tree Yarns, and some other bits and pieces. The Pear Tree Yarn stall was just gorgeous! I went back several times, but didn't end up buying anything, purely because I couldn't make up my mind, and I couldn't buy everything. The yarn was just heavenly soft, and dyed in the most beautiful muted shades you could possibly imagine.
I can't wait for next year!
There was some knitting happening, but not an awful lot. I was working on a sock on Friday night, and I ended up having to rip out everything I did, due to too much wine and too much talking.
I will be off line for at least a few days, because my laptop is having some problems, so it's going in for a service. Yes, the one I bought just seven months ago. They tell me it'll be gone for five days, but I'm not holding my breath. I'm trying to look on the bright side - limited internet tine should mean more knitting time, right? I'll be able to use Em's crappy laptop sometimes, so I'll be about at least a little bit.
Next time, I'll flash my beautiful new lace, which should be coming along very well, seeing as I'll have plenty of time to work on it!
Posted by Donna at July 21, 2008 11:35 PM

Comments