It seems to be baby season around here right now! One of the girls at work is having twin girls. I started the hoodie for her, but abandoned it. Instead, I made her a pair of Gidday Baby cardis.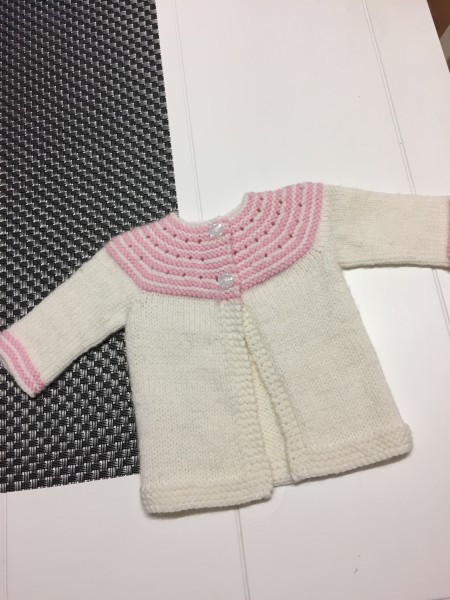 Specs:
Pattern: Gidday Baby by Georgie Hallam
Yarn: Bendigo Woollen Mills Luxury 8 Ply in Frost and Baby Blossom
Needles: 3.25mm Dyakcraft Heavy Metal and 3.5mm Dyakcraft Darn Pretty
Mods: None
A great pattern, Free (!) in the smaller baby sizes, but you can get it right up to childs Size 12 here for $US6.
She also specially requested a pair of baby bonnets, which I happily made for her, with beautiful big bows – and forgot to take a picture of!
Another girl at work is pregnant with a little boy, so I knit a cute little cabled cardi for her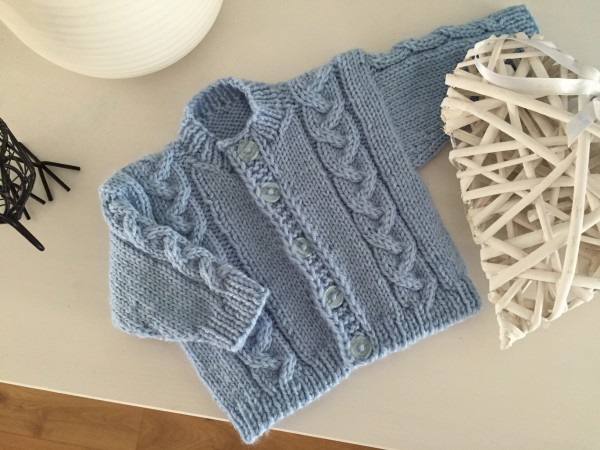 This one is from an old Patons book that I'm pretty sure is discontinued.
Specs:
Pattern: Cardi Set from Patons #1078 Tiny Sizes for Early Arrivals
Yarn: Bendigo Woollen Mills Luxury 8 ply (again!) in Baby Blue
Needles: 3.25mm Dyakcraft Heavy Metal and 3.5mm Dyakcraft Darn Pretty
Mods: The only mod I made was the pattern has the body knit in one piece to the underarms, then split for the fronts and back. Then you seam the underarms, and pick up around the armhole and knit down for the sleeve. But they have you pick up the stitches around the (closed) armhole, then knit flat and seam the underarm! I closed the top of the shoulders with a three needle bindoff, then I picked up around the armhole and knit the sleeve in the round, no seaming. Patons really seam to like to do things the long way around.
Finally, the young couple across the street had a baby a few weeks back who was very premature. She's still in hospital and will be there for another month or so yet. I made her an easter bonnet!
Specs:
Pattern: The hat is the Teeny, tiny, Preemie hats pattern by Cheryl Andrews (Rav freebie!) with the ears from Cottontail bunny cocoon and hat set
Yarn: Bendigo Luxury 4ply (seeing a trend?) in frost, with a little Bendigo Athena in Petal for the inside ears
Needles: 2.5mm Dyakcraft Darn Pretty DPNS
Mods: The ears is all.
Cute! I hope it fit, I haven't heard from them, but they're spending a lot of time at the hospital (understandably!)
So I've been baby knitting, a *lot*. My nephew and his girlfriend are also expecting, so I'm guessing I'm not done yet, but it feels nice to be working on full size items again!
We also have a new family member I've neglected to introduce.
Meet Harley.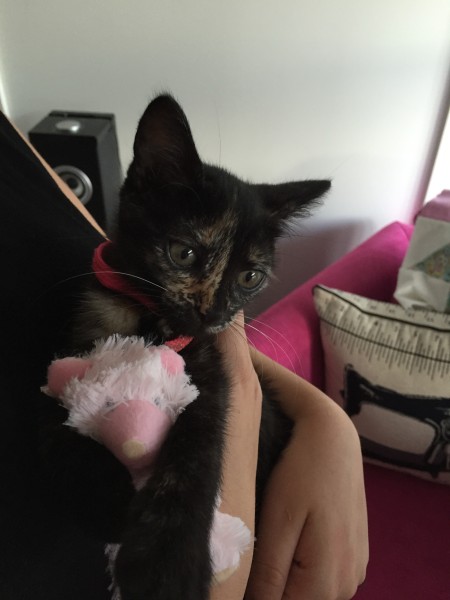 She moved in about a month ago, and took over shortly thereafter. It's her house now, we just get to stay because we have opposable thumbs and can open the tiny tyrant's food.