January 01, 2013
2012, a knitting retrospective
My production was down this year.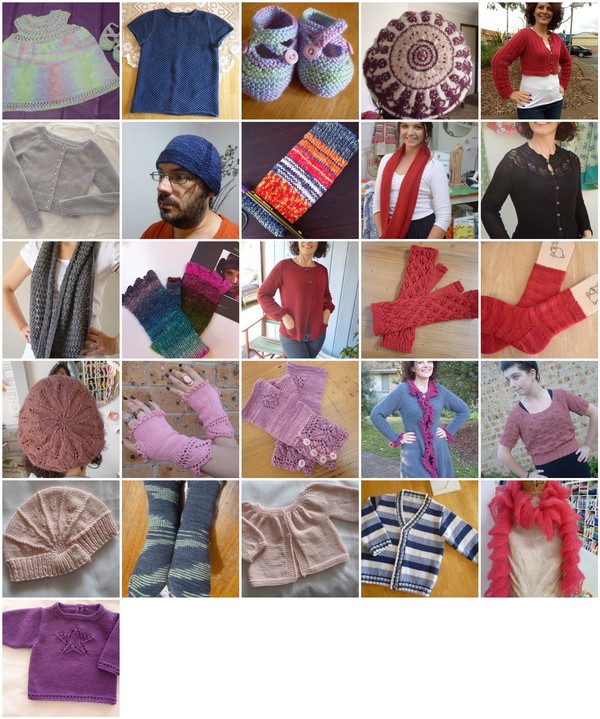 1. Micha Dress, 2. Cobbler, 3. Saartje's Bootees, 4. Dollheid Hat, 5. French Fancy Cardigan, 6. Pippa Cardi, 7. Potae Hat, 8. Road to Socialism ssocks, 9. Honey Cowl, 10. Camber cardi, 11. Easy Lace Cowl, 12. Noro gloves, 13. Olivia cardi, 14. Wussypillow mitts, 15. Jitterbug socks, 16. Frukttradgard hat, 17. Pink Mitts, 18. P1100459-001, 19. Ella coat, 20. Amelia top, 21. Poppy hat, 22. Hiccups socks, 23. Long Sleeved Baby Kina, 24. Isaac's stripey cardi, 25. Kidsilk Creation Scarf, 26. Starr Jumper
26 items, usually it's 32-35. A lot of what I knit this year was smaller, too - quite a few baby gifts in there, and a few shop samples.
The blogging took a hit this year, as well as the knitting. It wasn't the easiest year I've had, and I'm pretty happy to see the back of it to be honest!
I did do a few whack of sewing this year, though. Lots of dresses and a few tops. Three quilts, a skirt or two. Sewing is so much quicker than knitting. I can easily cut out, sew up and finish a dress in a day! But knitting is more relaxing, a slower pace.
That's what I'm aiming for this year. More relaxing, a slower pace. More knitting!
Posted by Donna at January 1, 2013 06:00 PM

Comments