June 07, 2012
Isaac's new cardi
Remember a year or so ago I became an Aunty again? Isaac had his first birthday last month! Fortuitously, Calico & Ivy had just gotten in some Rowan Wool Cotton in the new 4ply, which just begged to become a baby cardi.
I cruised Ravelry, looking for a good pattern to use, then pulled out my pattern books. (Of which there are somewhat more than a few).
Is it just me that does that now? There's shelves and shelves of pattern books in this house. But do I pull them out? Hell no, I just go to the almighty Ravelry!
I'd narrowed the field a bit, but then I found a cardi in a pattern book I'd bought and never used. (Another bad habit!).
The Little Stripey Sports Club cardi by Sublime. Perfect!
Specs:
Pattern: Little Stripey Sports Club Cardi from Sublime #641, The Third Irresistibly Sublime 4ply Baby Book
Yarn: Rowan Wool Cotton 4ply, one ball each in Marine, Paper and White.
Needles: 2.25mm & 2.75mm Addi turbos.
Mods: None!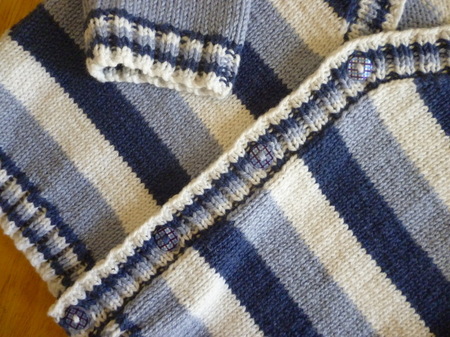 Love it. Love the yarn, love the finished project! The dark blue (marine) did run a little when I blocked the cardi, but nothing too dramatic. It certainly didn't ruin the white.
I love stripey cardi's for little boys. Lots of baby boys I've had the pleasure of knowing have been given stripey handknits. I might try and do it in girly shades when a baby girl next joins the party!
The buttons came from Calico & Ivy too, and were absolutely perfect.
Now I just need a picture of him actually wearing it!
This mornings mail carried a little bit of awesome, too.
My first Dyakcraft needles! I'd heard via Ravelry that although they weren't making this colour (Wisteria) any more, they had some orphan pairs at the studio. So last Thursday I called up Linda, and we worked out what she had and what I wanted, and here they are! Beautiful pink needles, in 3.5mm, 3.75mm, 4mm and 4.5mm. I didn't bother to go any bigger than that, because it's rare that I knit with anything heavier than a worsted weight. Besides, there might just be a full set of the metal needles in one of the new colours on order for me. And maybe a set of the wood, too.
Maybe.
(And having said that, I'm about to cast on for something that requires 8mm needles. Apparently I like to prove myself wrong!)
Posted by Donna at June 7, 2012 04:27 PM

Comments