March 07, 2012
So..
Working two jobs and undertaking the equivalent of a fulltime load of study doesn't seem to leave much time for knitting.
Who'd have thunk? Apparently not me. Woe, woe, woe is me. Cry me a river.
Anyhow, things are bound to slow up soon, but until then we'll continue on in a slower manner than usual. It helps (or perhaps doesn't) that I tend towards the hyperactive.
Ella is inching along. Last week we started on the skirt. As you can see, I'm a little behind.
I managed abut a whole inch last week. I'm aiming to catch up this week! Speaking of little behinds, mine isn't really. It's two sizes bigger than my bust, so I'm a little worried about how the skirt is going to fit. I'm decided to do the increase rows a little closer together than the pattern says, and try it on as I go. Lets hope that it works, because if I have to rip back, it may take me forever and a day to finish!
I did take a close up picture though. The bodice was blocked before I picked up the stitches for the skirt.
Look at the way the yarn blooms once it's blocked! Gorgeous. So nice and squishy, and beautifully soft.
The only other project that has seen any action is the socks I knit on when I'm on the train. I'm trying to love them.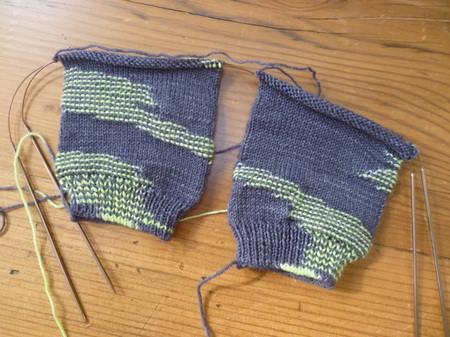 Two socks, same needles, same pattern, same ball of yarn at the same time. One is pooling.
Like I said, I'm trying to love them. They're not for me, so I don't have to love them, just finish them!
Posted by Donna at March 7, 2012 06:29 PM

Comments