January 22, 2012
Ella, week one
On Monday night when I got home from work, the Noni blog was up with the first Ella KAL post. As soon as I had a minute, I sat down and cast on.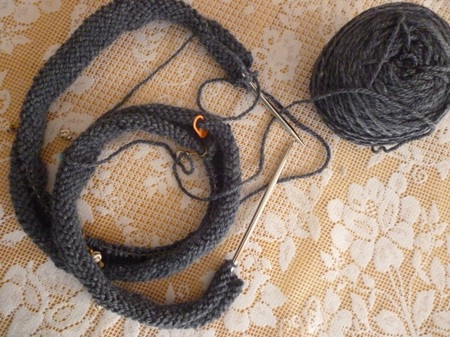 One of those weeks where I had barely enough time to scratch myself left me with very little Ella time. But then David won tickets to the Renaissance exhibition at the National Gallery of Australia on Thursday afternoon for Friday night, so on Friday we went road tripping, and Ella came along.
It's about a three hour drive from our place to Canberra, doable in a day, and it's pretty, but can get a little boring.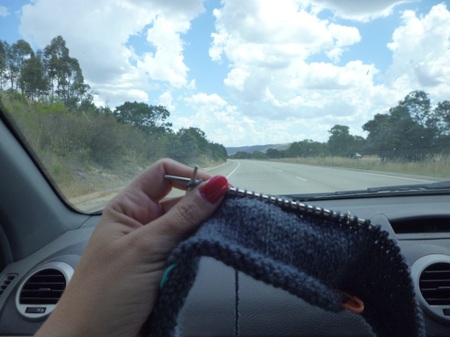 Lots of road.
Lots of greenery!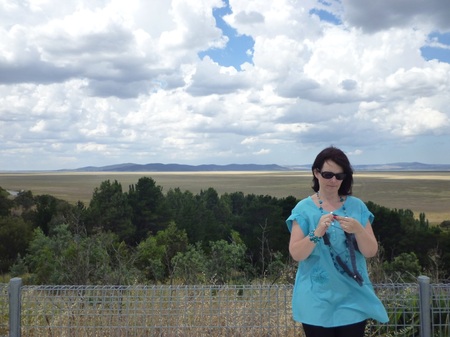 And we stopped by Lake George to look at the Wind Farm and have a knit. Yes, it really is a lake. I've never personally seen it full, but it happens.
And on the way home in the dark, I finished this weeks KAL section. I was feeling very proud of myself, but there'd been a little niggling thought in my head all week. Last night I pulled it out again and looked at it. Tried it around my body, and admitted to myself that the niggling thought was right.
Ella was too big. I fall smack in between two sizes. I'd decided to size up to be on the safe side, but it was just too big, especially seeing as my swatch had grown when I'd blocked it. So I frogged it.
This morning, it looked like this.
Next section starts tomorrow. I'd best get knitting!
Posted by Donna at January 22, 2012 04:34 PM

Comments