January 04, 2012
Elspeth
And so the final finished project for 2011 is here! I wore it for the first time on New Years Eve to a knitterly lunch, and Knitabulous took some pics for me afterwards.
Specs:
Pattern: Elspeth by Laura Long, available for free from the Rowan website (You'll need to be a member to get the pattern, but it's free to join)
Size: Small
Yarn: The sadly discontinued Calmer in Plum, pattern called for 4 balls, I only used 3.
Needles: 4.5mm
New Techniques for me: Crochet! Rosered came into the shop one day, and showed me how to do the double crochet and the picot edging.
Mods: I changed the crochet edging around the outer edge, but did it the way the pattern said around the sleeves. It worked fine on the sleeves, but when I did it around the bolero edge, it went all wavy. I emailed Rosered and she suggested a few decreases and picots only every third dc instead of every second. It's sitting better now, but I like the look of the sleeves better! I think it that my tension might have played a part too - I always go down a needle size in knitting, maybe I should have done the same with the crochet hook.
I also didn't bother with the picots on the ties, it seemed a little silly to me!
Otherwise, exactly as the pattern says.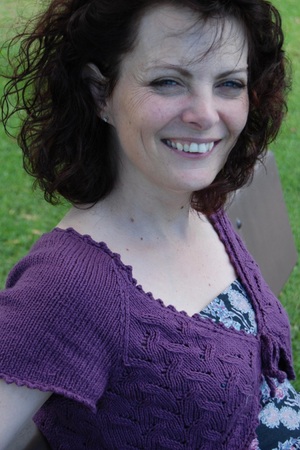 And I love it! I really love Calmer, and I'm so glad I managed to stash some away before it's lost forever. I'm usually not a fan of acrylic at all, but this blend is s o soft and squishy, it's a delight to work with, and to wear.
It's been mentioned to me by a couple of people that I should be blogging my sewing exploits as well as my knitting.
I mention it now because the dress I'm wearing with my Elspeth is one of the more recent ones that I've made. Unfortunately, I can't give you pattern information or anything, because it's a mock up of about three different patterns, and some shirring on the back. Shirring is my new sewing love. Easy, easy, easy! I used this tutorial to learn how, and it's great! Shirring just the back of the bodice is good - no need for zips or buttons, helps with a great fit due to the elasticity and is relatively easy to boot!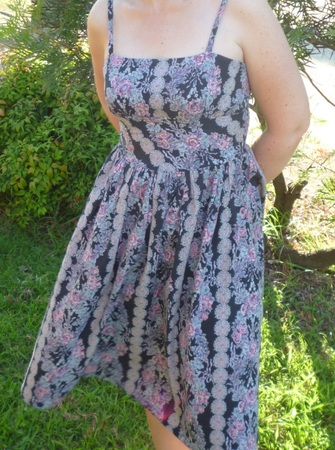 This isn't a great picture, but it gives you a better view of the bodice. The fabrics is a lovely light weight cotton I got from Calico & Ivy.
In other news, my yarn arrived for my Ella coat!
The colours are perfect - the colour in the picture is a little off, the pick is a gorgeous raspberry pink. The Shepherd's Wool is divine - maybe the softest pure wool I've ever played with. Gorgeous! Now to swatch...
Posted by Donna at January 4, 2012 07:22 PM

Comments