October 24, 2010
Catch up
So, since I finished Oblique last weekend, I've started something new. Something for Emily, which she has been asking for for a while, and no doubt something that will be worn once and tossed aside.
Lets hope I'm wrong!
It's Petal by Kim Hargreaves from the "Misty" book.
I'm knitting it in Bendigo Woollen Mills 4ply cotton in "New Ochre" that I picked up while we were down in Bendigo for the Sheep and Wool show. Once again, I'm knitting the front and back at the same time, and so far it's coming along nicely.
Speaking of Emily, she's smack in the middle of her final exams for school. This is how she looks most days.
Including the look on her face. This time next week, her high school career will be over. Can you believe it?!? Me either.
So we've been housebound while she studies, and I've been at the sewing machine.
This was going to be a sneak peek of the Dick and Jane collection that was supposed to be now available in the shop. But most of it's gone already! There's still DPN roll there, and there's one more interchangeable holder going up in a week or so when more lining fabric arrives. I've ordered some more fabric, so there'll be more in the future. The pretty polka dot linen needle rolls are up, though!
And in fun stuff, Kris introduced me to the Bieber Hair app for the iPhone.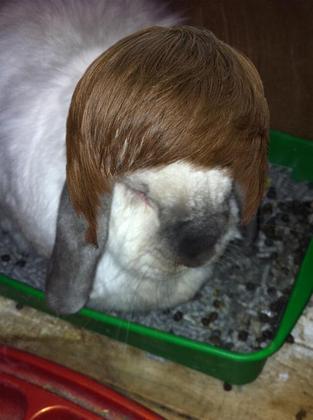 No one is safe!
Posted by Donna at October 24, 2010 11:18 AM

Comments