January 28, 2010
Mojojojo
I need to get back into the mojo of this blogging malarky. It's not that I don't have anything to blog about, it's just that I've fallen out of the habit, I think.
So far, 2010 appears to be the year of the small project. That suits me just fine, the satisfaction of a quick and dirty project is sometimes just what I need.
On Sunday, I pulled out a single ball of Noro Silk Garden Lite that had been kicking around, and trawled Ravelry looking for a suitable pattern. I decided on the Waterfall Scarf.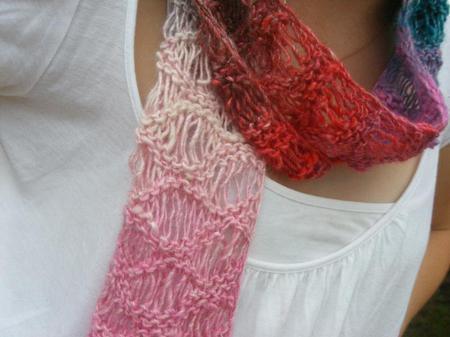 Started on Sunday night, it was finished on Monday afternoon!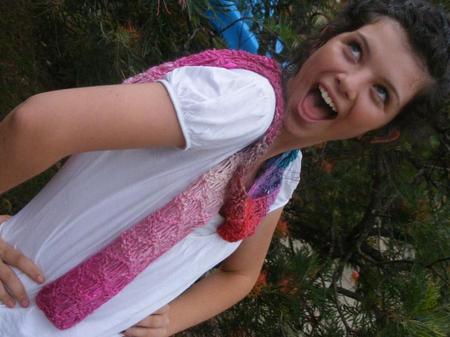 Happy Supermodel shot!
Specs:
Pattern: Waterfall Scarf by Cosette Cornelius-Bates
Yarn: 1 ball of Noro Silk Garden Lite, Colourway 2032, Purchased an aeon ago at The Wool Inn at Penrith
Needles: 4.5mm Birch straights
Mods: I added one stitch to either end, and began every row with a slipped stitch, otherwise, it's as written. I just kept knitting until I ran out of yarn.
Overall, it's a nice, quick knit with a good finish. Would make a good gift knit, I think.
Posted by Donna at January 28, 2010 05:48 PM

Comments