April 27, 2009
Knitting Camp
Another Camp done, dusted and totally enjoyed!
There was knitting, of course. I cast on Em's Baroness Beret just before I left on Friday, and finished it late on Friday night.
Ailsa finished her Autumn Rose, and we both wore them on Saturday. I failed to get a photo, but Bells has one, and Mary-Helen has pics of us both in them. Apart from the Baroness Beret, a lot of work got done on the Marilinda socks.
There was knitting in the gorgeous sun.
There was much hilarity and many cocktails at the Hawaiian themed dinner.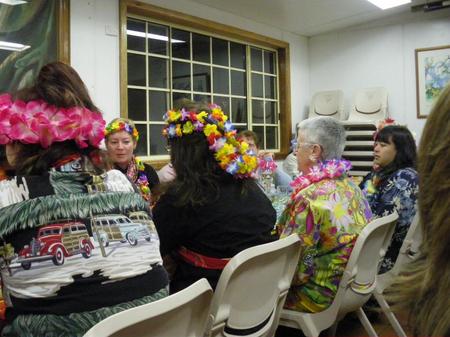 Where missfee won the costume competition.
Many hangovers on Sunday, but all round a most awesome weekend. Twinkie apparently missed me muchly, David sent me a message saying so on Saturday, but it was proven by the way she raced out to meet me when I returned on Sunday (awww!)
More accounts can be found all over blogland, and more pics at my flickr, Bells flickr and blog, Mary-Helen's blog and Kris' blog.
Can't wait until next year!
Posted by Donna at April 27, 2009 08:00 PM

Comments