April 04, 2009
Bling-y Shoulder Warmer
So finally, I made myself get to work on the Bling-y Shoulder Warmer, and somewhat unsurprisingly, it's done!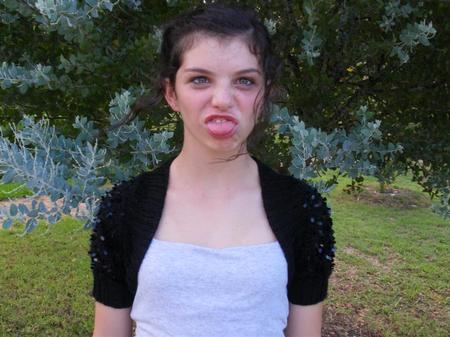 Doesn't look much like she's happy with it, does it? Let's try another picture.
That's better!
She assures me that she is very happy with it, and that she intends to wear it. She'd better! She specifically asked for the yarn, itchy or not. Actually, I tried it on myself and the sequins aren't really itchy, just sort of aggravating.
Specs:
Pattern: Top-Down Shoulder Warmer by Laura Chau (Cosmic Pluto)
Yarn: Moda Vera Ballroom from Spotlight (3 skeins)
Needles: 4mm, Knitpicks Options
Mods: A couple. I found the sleeves were coming out too wide, so for the last few shaping rows, I only increased in the back of the shrug, and left the sleeves as is. Despite that, I still had to decrease a bunch of stitches across the sleeves. I only did short sleeves, as requested by the EmPress.
For the ribbing, I undertook the painful task of removing the sequin thread from the plain thread. It took hours. Hours. I'm happy with the result though. I think Em was worried it wouldn't be sparkly enough, but it's still plenty sparkly! And without added itch factor in the neck.
For what it's worth, I hate the yarn. Hate It. And it's not even the acrylic component, it's those bloody sequins. They kept getting stuck in the stitches. And the pointy needle kept getting caught in the hole at the top. And even though it's pretty sparkly, there are more sequins on the inside than the outside, but I don't care enough to pull them through. Never again, no matter how much she pleads or gives me puppy eyes.
And I finished something else, too! (Actually I finished this a week ago, I just needed to weave in the ends. What, you didn't know I was lazy?!?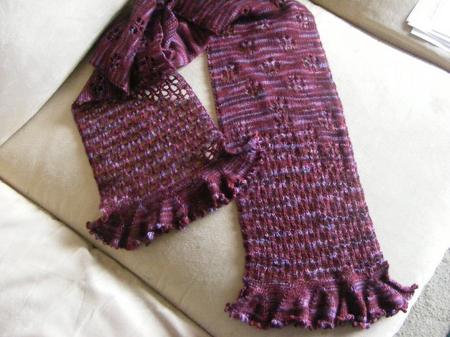 My Flit n Float scarf is done! Nice, easy, quick pattern.
Specs:
Pattern: Flit n Float by Birdy Evans from Knitty Spring 2009
Yarn: Malabrigo Lace in Velvet Grapes from Yarn and Kisses
Needles: KnitPicks Harmony 3.25mm
Mods: I got halfway through, and had tons of yarn left, so I did a bunch of extra rows in the middle. Despite that, I still had 11g leftover at the end.
Not real sure how I feel about the Malabrigo laceweight. It's nice and soft for against the skin wear, but I don't really it. Being a single yarn, it biased a bit. It also felt a little heavier than a standard laceweight. I gave it a very gentle full wet block, and the ends have already felted a little, so it very much needs to be treated with care.
But I like the finished scarf a whole lot!
And seeing as I finished all my projects, I started something new.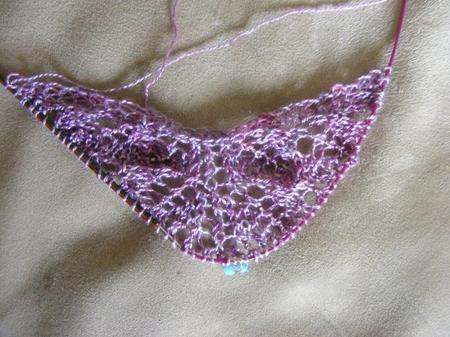 MMmmm, silk, Mama Blue, laceweight, beads. What's not to like?
Posted by Donna at April 4, 2009 10:26 AM

Comments