March 17, 2009
Finally, Autumn Rose
And so, finally, Autumn Rose.
This is, officially, my favourite knitted item, ever.
There are not many words, the pictures say it all.
Specs:
Pattern: Autumm Rose by Eunny Jang from Simply Shetland 4: At Tomales Bay
Size: 35" (smallest)
Yarn: KnitPicks Palette (purchased as a kit in the Mineral colourway)
Needles: I had to go down to a 2.75mm (US2) to get the recommended tension. I used KnitPicks Harmony needles.
Modifications: None, knit exactly as the pattern says.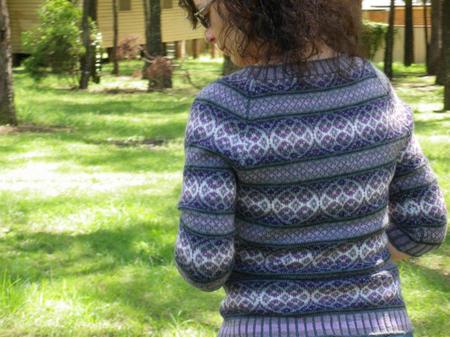 The worst part of it all was weaving in all the ends. I did some as I went, and I'm glad I did, or it may never have been finished!
Now I just need to wait for the weather to get cold enough to wear it!

Posted by Donna at March 17, 2009 10:34 PM

Comments