May 04, 2008
The rabbit strikes again
Having finished Em's jumper/sweater, I'd promised David that I'd knit him a vest. Having nothing suitable in the stash, on Friday I headed down to Daisy Designs in Wollongong to get something. Had a lovely knitting day, and picked up a pile of Patons Jet in green for the vest.
I brought home the nice paper bag full of yarn, and put it at the end of the sofa, ready to be cast on.
I didn't get around to it on Friday night or yesterday, and last night we went out for dinner. Arriving home, we settled in and I realised that I could hear a suspicious rustling noise.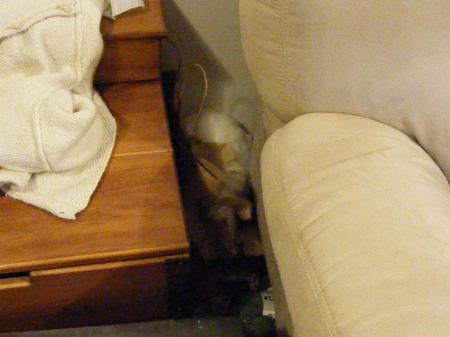 Twinkie had found the paper bag.
No yarn was harmed in this process.
A few labels were ripped, but it's not the yarn she's interested in, thankfully.
Last night I cast on the vest, after making a few adjustments to the pattern. I decided to omit the seams and knit it in the round, which wasn't any hassle, but casting on 192 stitches without twisting them turned into a mini drama, as did the gigantic knot in the middle of the ball.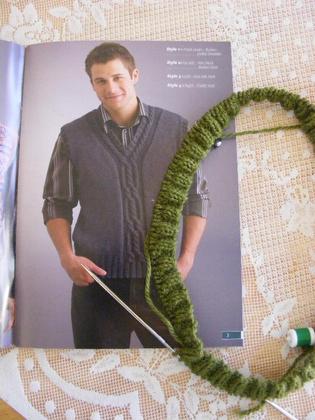 But all is now well, and the vest is cast on, no thanks to Twinkie, or the knot!

Posted by Donna at May 4, 2008 09:32 PM

Comments