November 26, 2007
Monday, Monday
Where do the weekends go?
I have another finished project! Flicker is finished!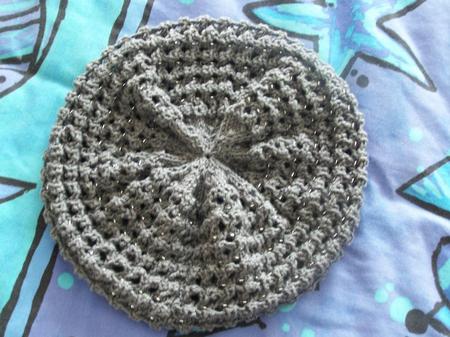 I knit it almost twice, but I'm pretty happy with it. Bathroom mirror shots coming up.
The hat was purchased as a kit from Kim Hargreaves, here. It wasn't a difficult pattern, I just can't seem to learn to swatch.
I used 3.5mm needles in the end, the yarn is Rowan Wool Cotton in "Misty". This is the first time I've used Wool Cotton, but I think I'll be using it again, it's a really nice yarn. Not at all stiff like some cottons, it feels much more like wool. It stood up to the frogging very well indeed.
And here's what was supposed to be a shot of the back of the hat. Not an easy picture to take!
I'm not usually a hat wearer, but I'll wear this one.
I also finished the top secret project, but I can't show you that one just yet. And I started another secret one!
I also started a new scarf for Em. Just because she doesn't wear any of the others that I've knit for her. I'm a sucker.
I started it a few weeks back actually, but it wasn't going well.
She wanted a pink and white scarf, and I wanted to do it in a chevron pattern. I flicked through my beloved Barbara Walker treasuries, and came up with this.
I was pretty happy with this, but I didn't like the back.
So I tossed it aside until this weekend, when I came across the perfect scarf in Scarf Style, ZigZag stripes.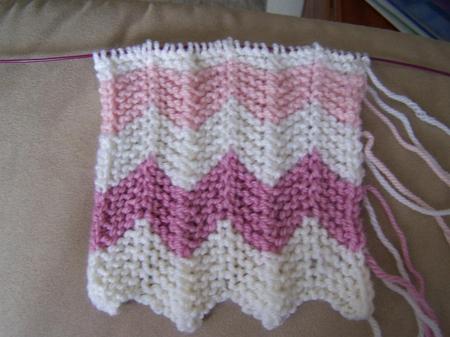 But now I don't think I'm going to have enough yarn!
For the Twinkie fans, here's her new trick.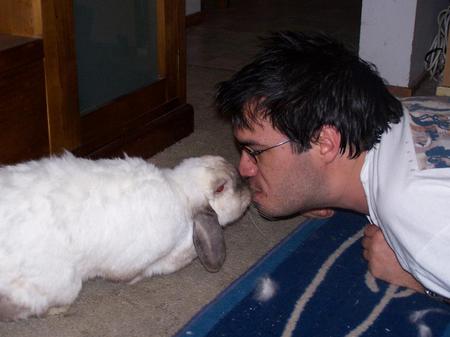 To get a "kiss" from a bunny, hold a grape between your lips!
24 days until we leave for the USA. I'm not sure if I'm more anxious or excited. I've already had bad dreams about the flight!
Posted by Donna at November 26, 2007 08:51 PM

Comments