November 02, 2006
The Icarus, she is done!
This has been the hardest shawl I've ever had to photograph. It came out blurry, then it was too dark. It's taken 3 days to get a half decent shot.
Specs: "Icarus" from Interweave Knits Summer 2006, Designed by Miriam of Mimknits
Yarn: Misti Baby Alpaca in Black, purchased from The Knitting Zone
Needles: 3.5mm Addi Natura bamboo circ, from STYK
Pattern Modifications:
I left out on full repeat of Chart 1, because I was fairly certain I would have run out of yarn otherwise. I did have yarn leftover, but I'm pretty sure that I wouldn't have made it if I'd done that last repeat. I'm happy with the finished size, regardless. It's 77cm (30.5") down the centre back, and 155cm (62") across the wingspan.
It's an easier lace pattern than I would normally do, and those endless repeats of chart one nearly drove me insane, so much so that it got put aside for a good while in the middle of knitting it. Once I moved on to Chart 2 though, I loved it.
I also really enjoyed working wtht he Misti Baby Alpaca.
Now back to the purple blob!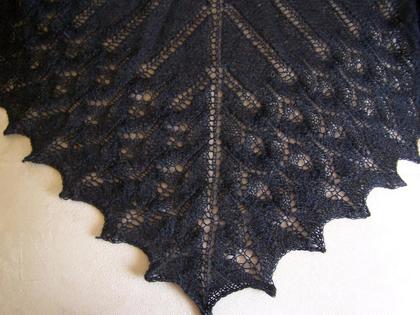 Posted by Donna at November 2, 2006 10:09 AM

Comments