September 11, 2006
It's Monday, it's still grey, cold and raining, but I've had the most wonderful start to the week!
The good thing about rain?
Rainbows! I was out yesterday, and on the way home, I spotted this rainbow. As soon as got off the Freeway, I took a picture. But the closer I got to home, the brighter it got, and I had to keep pulling over to take more pictures.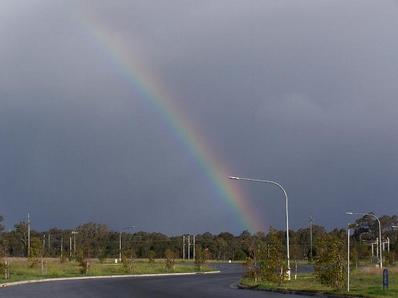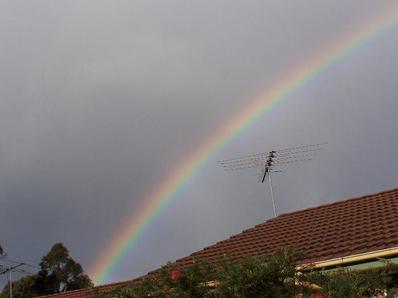 The last one was taken from my back door, maybe 5 minutes after the first one.
I love rainbows!
And it just got better after that.
This morning, there was a package for me. My lace swap arrived!
Look at the pretty package.
I got really excited, but I waited long enough to take pictures.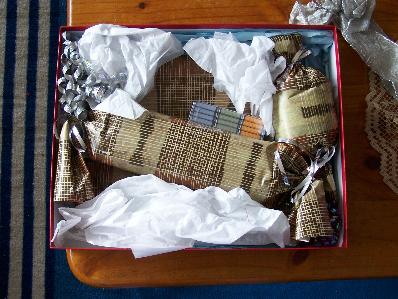 And inside?
All gorgeous! My swap pal was the fantastic Chloe! This parcel was perfect. Two lots of yarn, one is laceweight wool in my favourite dark purple. It is unbelievably soft. The oyher is also heavenly soft wool, and is Graceful by Yarn Place. It is very subtly variegated in shades of purple.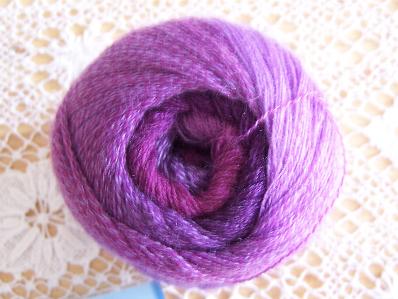 Doesn't it look pretty in the ball? I love it!
I also received to patterns, "Field of Flowers" and "Spring Blossoms" from Fiber Trends, Crystal Palace Double Points, and the cutest little box of chocolates.
Thanks Chloe, it's all fantastic!
And then the car yard called. I can pick up my new car on Thursday.
This is like having a birthday all over again.
Posted by Donna at September 11, 2006 01:47 PM

Comments