May 04, 2006
My mojo appears to be back, and I was right. It was all the fault of this.
It's a finished pink cardi!
Crochet and all, it's done. I'm kind of relieved, because I'm over it now. My "shiny, shiny" syndrome has hit bigtime. When this kicks into gear anything I was holding gets dropped in favour of whatever new thing has caught my attention.
I also managed to finish the green scarf.
The colour just isn't right. This is a gift for someone, although I must admit to a second thought or two. It's so soft and warm. I will be strong! I'm sure it will be appreciated and loved where it is going.
I did knit up another quick item as a gift this week, but I can't show it to you for two reasons.
First, the recipient hasn't received it yet.
And second, I forgot to take a picture. See? Shiny, shiny.
I did start the beaded socks last night.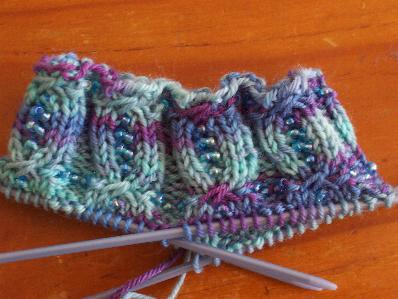 The yarn is Lornas Laces Shepherd sock in "River", the pattern is HeartStrings "Beaded Faux Cable Anklets". Here's a close up of the bead work.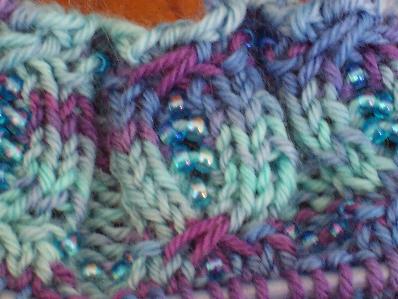 Pretty! I'm thinking that I maybe should've chosen beads with more contrast, but I'm liking it so far.
Anyone getting the idea that I haven't got much housework and stuff done this week?
The miners are still underground. The rescuers are working very carefully to free them, because they don't want to start another rockfall. It could be Saturday before they're finally out and in the clear. Please keep them in your prayers if you're so inclined.
Posted by Donna at May 4, 2006 04:12 PM

Comments